Find Banas Medical College, Banaskantha, Gujarat Cut off, College / Course Ranking, Tuition Fees, Courses, Admission Procedures, Infrastructure, Hostel Facilities, Hospital Details which will help you to decide the choice selection during NEET Admission Counselling For MBBS Courses.
Table of Contents
1. Quick Summary
2. Banas Medical College MBBS Course
2.1. Seats
2.2. Tuition Fees
2.3. Cut off 2021
2.4. Ranking
2.5. Bond Details and Stipend
3. Banas Medical College Fees Structure
4. Infrastructure
5. Hostel
6. Affiliated Hospitals
7. How to Reach
Quick Summary
| | |
| --- | --- |
| Established | 2018 |
| Institution Type | Private |
| Affiliated University | Hemchandracharya North Gujarat University,Patan |
| Total Beds | 279 |
| Average Patients | Install MBBSCouncil App |
| Post Graduate Courses | – |
| Super Speciality Courses | – |
| Other Names | |
| Address | General Hospital Campus, Shimala Gate, Palanpur – 385001, Gujarat, India. |
| Official Website | http://www.bmcri.co.in/ |
| Contact | 02742-265780 |
| Mobile | – |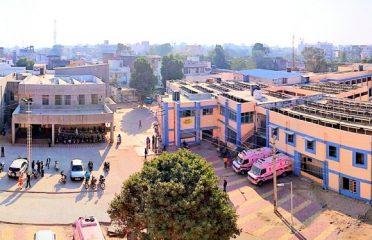 Galbabhai Nanjibhai Patel Charitable Trust is established on 17 September 2016 by Banas Dairy and approved by the Charity Commissioner, Palanpur.
Which Medical College You Have Chance To Get?
Banas Medical College MBBS Course
Admission to Banas Medical College is based on the score obtained in National Eligibility cum Entrance Test(NEET-UG) conducted by National Testing Agency(NTA). Duration of MBBS course is 4.5 years + one year compulsory rotating medical internship.
Seats
Total MBBS Seats Is Given Below.
Banas Medical College Tuition Fees
Banas Medical College MBBS Tuition fees for various quota is given below. Apart from tuition fees, you need to pay various other fees during admission.
| | |
| --- | --- |
| Government Fees | ₹ 765000 /Year |
| Management Fees | ₹ 1600000 /Year |
| NRI Fees | ₹ 2100000 /Year |
Gujarat MBBS Admission Counselling Process
You need to know medical college types, various quotas, hidden fees, Gujarat domicile rules, GJ state rank list, choice filling techniques, allotment rules, up-gradation rules, service bond, penalty, stipend, last year closing cut off, in order to avoid making any mistake during counselling.
If you are not familiar with any of the above, and looking forward to learn from pioneers of NEET counselling, begin your learning with us by reading the beginner's guide.
1.
Get NEET Counselling Beginner's Guide >>
2.
Get Gujarat MBBS Counselling Guide >>

Banas Medical College Cut off 2021
Knowing Last Year Banas Medical College score cutoff for round 1 Counselling will help you to predict your possibility to get this medical college.
Gujarat State Quota Seats (SQ) NEET 2021 Score Cutoff
Install MBBSCouncil App to know Gujarat Rank cut off and Gujarat category rank cut off for all medical colleges in all rounds of Gujarat state NEET counselling. Wondering what above category abbrevation means, check all Gujarat reservation categories.
How To Avoid NEET Counselling Mistakes
Subscribe to MBBSCouncil Newsletter and learn from the NEET Admission counselling experience of 1 Lakh+ students, parents and doctors.
Management Quota Seats (MQ) NEET 2021 Score Cutoff
| Category | Cut off Score | Cut off Rank |
| --- | --- | --- |
| MNG | 397 | Know More |
Install MBBSCouncil App to know All India Rank cut off for all medical college in all rounds of counselling.
Get Free NEET Counselling Reminders/Tips
Get every important NEET Counselling notifications from all counselling authorities, so that you never miss any deadline. Subscribe Now >>
Banas Medical College Ranking
College Ranking is based on How Parents and Students Preferred Banas Medical College during NEET UG 2021 MCC and state counselling.
| | |
| --- | --- |
| Quota Type | Ranking |
| Gujarat State Ranking | 26 |
| Gujarat State Management Ranking | 19 |
Banas Medical College Bond Details and Stipend
After MBBS course completion in Banas Medical College, candidates are obliged to complete compulsory rural service. If candidates skip service, they need to pay service bond penalty to proceed for medical council registration / post graduate studies. Details of Service Years and Penalty is given below. During the study, interns are entitled to get monthly stipend.
| | |
| --- | --- |
| Total Years | 0 |
| Penalty | ₹ 0 |
| Stipend | No Data Available |
No other medical colleges in Banaskantha.
Share your experience to help medical aspirants
Banas Medical College Fees Structure
……….
Infrastructure
Hostel
What Our Premium Customer Say About us?
"MBBS council has helped us a lot during the counselling process. Videos and timely updates were very useful. The counselor was very sweet and aided us in every way. All kinds of document related queries were answered very swiftly. Thank you for all your help"
Mr. Clement - Velammal Medical College
Affiliated Hospitals
Banas Medical College Hospital provided 650 beds with 24 wards and super specialty services.
A total of 3650 patients have been treated per year in the hospital.
There is a 22-bed intensive care unit for the treatment of critically ill patients and has 3 labor rooms are provides for 24-hour delivery.
How to Reach
The College is located at a distance of 10 km from the Palanpur bus stand the travel time is 24 minutes.
Palanpur Railway Station is located at a distance of 9 km from the college that takes about 20 minutes to travel via Parpada road.
Dessa Airport is the nearest airport to the college, located at a distance of 27 km and takes 36 minutes to travel.

Worth Exploring
1.
Which Medical Colleges you should avoid during Choice Filling >>
2.
How To Rank Medical Colleges Quality For Choice Filling >>
3.
How to Predict Your College Accurately For Your Rank >>