Find Indira Medical College, Tiruvallur, TN – NEET- MBBS Cutoff, College / Course Ranking, Tuition Fees, Courses, Admission Procedures, Infrastructure, Hostel Facilities, Hospital Details which will help you to decide the choice selection during the time of MBBS Admission Counselling.
Introduction
Indira Educational Groups are providing different kinds of educational courses to the students as Engineering & Technology, Management & Research, Teacher Training & Educations, Dental, Nursing among these institutes Medical courses also added from the year 2020. Indira medical college is added on as a Crown Jewel of the Indira Educational Groups. Indira medical college and hospital, Thiruvallur offering good quality medical education and healthcare for the people situated in Thiruvallur and its surrounding places.
The faculties are the pillars of strength in IMCH. The effective teaching method of learning resources and the excellent infrastructure that makes this institution an ideal place for medical practice. Indira medical college faculties are so eminent in their respective medical departments that is one of the values of the IMCH. The agenda of the Indira MC is to build a solid foundation for the upcoming medical professionals.
Table of Contents
1. Quick Summary
2. MBBS Course
2.1. Seats and Tuition Fees
2.2. NEET 2021 Cutoff
2.3. College Ranking
2.4. Bond Details and Stipend
3. Infrastructure
4. Facilities
5. Affiliated Hospitals
6. How to Reach
Quick Summary
| | |
| --- | --- |
| Established | 2020 |
| Institution Type | Private |
| Affiliated University | Tamilnadu Dr. MGR Medical University,Chennai |
| Total Beds | 0 |
| Post Graduate Courses | – |
| Super Speciality Courses | – |
| Other Names | IMCH Medical College, Indira Medical College and Hospital Thiruvallur, Indira MC Chennai. |
| Address | Indira Medical College, No.1, V.G.R. Gardens, V.G.R. Nagar, Pandur, Thiruvallur – 631 203 |
| Website | https://imch.in/ |
| Contact | 044-2765 0160, 044-2765 0161 |
| Mobile | 9841735858 |

Know More About Counselling Tools >>
Which Medical College You Have Chance To Get?
Every candidate wants to know the type of college and quota they have chance to get for their NEET score/rank. This will help them decide the probable fees structure range.
Do you know NEET Admission counselling tool used by 1 lakh+ NEET UG/PG candidates to predict and pick best medical college in counselling within their budget? Read More >>
MBBS Course
Admission to Indira Medical College is based on the score obtained in National Eligibility cum Entrance Test(NEET-UG) conducted by National Testing Agency(NTA).
MBBS Seats and Tuition Fees
Indira Medical College MBBS Seats and tuition fees for various quota is given below. Apart from tuition fees, you need to pay various other fees during admission.
| Seats | Government Fees | Management Fees | NRI Fees |
| --- | --- | --- | --- |
| 150 | ₹ 400000 | ₹ 1250000 | ₹ 2350000 |
Tamil Nadu MBBS Admission Counselling Process
You need to know medical college types, quota, tuition fees, hidden fees, Tamil Nadu state reservation, domicile rules, Tamil Nadu state rank list, choice filling, allotment rules, up-gradation rules, service bond, penalty, stipend, last year closing cutoff, in order to avoid making any mistake during counselling.
If any of the above sounds unfamiliar to you, you can start learning with NEET Counselling Beginner's E-Book and proceed to further steps mentioned below.
1.
Get Beginner's Guide >>
2.
Get Complete List of Medical Colleges In Tamil Nadu >>
3.
Learn Tamilnadu Medical College Quota and Reservation >>
4.
Understand Category wise Tamil Nadu NEET Competition and Performance >>
5.
Know Category Wise Last Year Tamil Nadu Govt Quota NEET Closing Score/Rank >>
6.
Read Last Year Schedule of Tamil Nadu Counselling Events >>
7.
Get Tamil Nadu MBBS Counselling Guide >>
How Prepared Are You For NEET Counselling?
While it is important for the student to prepare for NEET Examination, it is very much important for parents to learn about All India and Tamil Nadu State NEET counselling. It will help parents and doctors to avoid any mistake and get best medical college within the budget for their NEET score.
Do you know close to 30% of MBBS candidates end up earning less than Rs 10000/month as their salary?
You can check your preparation level for NEET 2022 counselling by taking 5 minute test by installing MBBSCouncil App
MBBS NEET 2021 Cutoff
Knowing Last Year Indira Medical College closing score for round 1 Counselling will help you to predict your possibility to get this medical college. Install MBBSCouncil App to know All India Closing Rank for all rounds of counselling.
Tamil Nadu State Quota Seats (SQ) Closing NEET 2021 Score Cutoff
| Category | Score |
| --- | --- |
| BC | 511 |
| BCM | 491 |
| MBC | 485 |
| MBC-GS | 245 |
| BC-GS | 239 |
| SC-GS | 205 |
Open Quota Seats (OPN) Closing NEET 2021 Score Cutoff
Install MBBSCouncil App to see Open Quota Seats (OPN) quota cutoff for all rounds.
If you could not understand above category abbreviations, to know complete list of your state's quota and reservation categories, click here >>
How to Predict Your Chance With High Accuracy?
Knowing closing state rank and community rank cut off will increase your prediction accuracy to get seat under state quota in government medical colleges and private medical colleges. Read More on How To Predicting Your College Accurately>>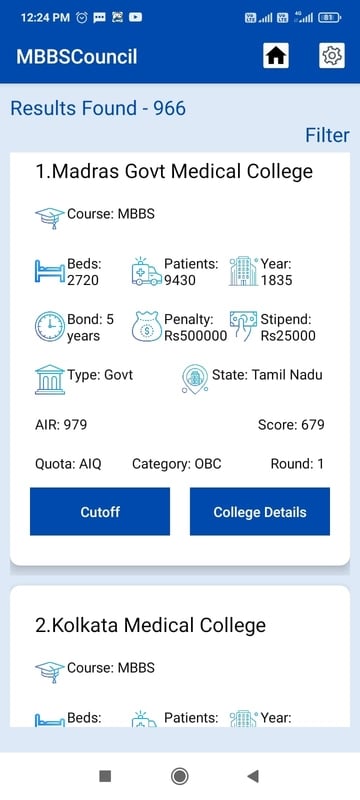 MBBS College Ranking
College Ranking is based on How Parents and Students Preferred Indira Medical College during NEET UG 2021 MCC and state counselling.
| | |
| --- | --- |
| Open Management Rank | 38 |
| State Rank | 54 |
MBBS Bond Details and Stipend
After MBBS course completion in Indira Medical College, candidates are obliged to complete compulsory rural service. If candidates skip service, they need to pay penalty to proceed for medical council registration / post graduate studies. Details of Service Years and Penalty is given below. During the study, interns are entitled to get monthly stipend.
| | |
| --- | --- |
| Total Years | No Data Available |
| Penalty | No Data Available |
| Stipend | No Data Available |
NEET Counselling Guidance
MBBSCouncil Android App - The only App you need for NEET UG/PG/SS counselling which contains everything you need to know to get best medical college for your NEET Rank.
Infrastructure
The IMCH having 60 acres of beautiful green sprawling campus consists of esthetically designed modern buildings spread over an area of 20,000sq.mt. Modernised infrastructures of spacious & ventilated lecture rooms, seminar halls, auditorium, recreation room, gymnasium, latest equipped laboratory, modern training aids, multicuisine cafeteria, separate hostels for boys and girls students, transport, and the other facilities are available. All of the classrooms are well ventilated and fitted with audio-visual teaching aids, that provide a good ambience for educational pursuits. An air-conditioned library which is stocked with textbooks and magazines including a wide range of medicinal subjects. The IMCH campus encourages the students in cultural activities, to explore their skills & talents.
Library
IMCH library is the centre and nerve point of this medical institution. Moreover, IMCH central library lightens the student's knowledge & sharpens their minds. The college central library is well equipped, with more than 25,000 books and a large number of Indian and Foreign journals and good reading material of periodicals. The other facilities are available such as CD-ROMS, audio-video information that students can easily access. An integrated library software system that is used in all activities of cataloguing, article indexing, abstracting catalogues. All of the library activities are computerized now using bar-coded identity cards with the latest technology which helps a lot of students and staffs. Issuing and returning books are available from 9:00 am to 4:30 pm on all college working days.
Facilities
Hostel
There are separate hostel facilities available for both boys and girls students within the Pandur campus itself. The IMCH management fixes the room rent and charges affordably. Mess and Canteen facilities are available for the hostel students at a reasonable cost. Also, laundry facilities are available to the students on paid service. Health benefits are available at Pandur college campus for the students if they need any medical attention. A qualified medical attendant makes sure the student's health condition with first-aid rooms on the college campus.
Food & Mess
Indira medical college campus provides a multi-cuisine cafeteria facility also Indira MC Cafeteria provides delicious foods, beverages, snacks. It serves delicious vegetarian and non-vegetarian food to day scholars & hostel students along with faculties and staff members. IMCH management ensures that healthy meals are provided to the students and staff and also maintains hygiene standards at all times. R.O treatment systems are installed to supply purified water. The canteen maintenance committee operates to serve the foods in clean utensils, buy natural vegetables and groceries.
Transport
Indira medical college, Chennai provides a well-maintained air-conditioned omnibus transportation facility for students and staffs from Chennai city corner to the IMCH campus at a nominal charge. Also free transportation, facilities are offered to the students and staffs from Thiruvallur bus station as per the college norms. The IMCH management ensures the college buses condition with the proper checking at every month regularly for students and staffs safety.
Sports
Sport and game facilities are available in the Indira medical college to maintain the physical health of students. These are the games are offered by the Indira MC as cricket, football, volleyball, basketball and indoor & outdoor games too.
Get Free NEET Counselling Reminders/Tips
Get every important NEET Counselling notifications from all counselling authorities to your mobile so that you never miss any deadline. Show Me How >>
Affiliated Hospitals
Indira medical college is affiliated with its own hospital which will offer medical benefits. Also, it offers all kinds of casualty care & emergency care along with inpatient and outpatient services 24×7 around all days. These are the departments are available on the Indira medical college hospital such as Anatomy, Biochemistry, Community Medicine / PSM, Dermatology, ENT, Forensic Medicine, General Medicine, Microbiology, Obstetrics & Gynaecology, Ophthalmology, Paediatrics, Pathology, Pharmacology, Physiology, Psychiatry, General Surgery, TB & Chest and the other medical departments. Indira group's affiliated hospital provides the opportunity to the students to learn the medical studies in a very practical way by its staff and teaching faculties.
Health Care Centres – Primary Health Centres and Rural/Urban Health Training Centres
PHC I (RHTC) – located 00 kms from the college.

PHC II (UHTC) – located 00 kms from the college.
How to Reach
The Indira medical college and hospital is located on the VGR Nager campus at Pandur. From Koyambedu to Thiruvallur bus facilities are available 24×7 on all days. Koyambedu is located 38 km away from Thiruvallur with a reaching time of 1 hour approx. IMCH, Thiruvallur is located 10 km away from the Thiruvalllur railway station with a time duration of 21 minutes. Indira MC, Thiruvallur is 51.4 kilometres away from the Chennai International Airport. We can reach this college in 1 hour 35 minutes.
Worth Exploring
1.
Which Medical Colleges you should avoid during Choice Filling >>
2.
How To Rank Medical Colleges Quality For Choice Filling >>
3.
How to Predict Your College Accurately For Your Rank >>
4.
NEET Admission Counselling Tips >>

Filter Medical Colleges Within Your Budget >>