Find Adesh Medical College Kurukshetra, Kurukshetra, HR – NEET- MBBS PG Cutoff, College / Course Ranking, Tuition Fees, Courses, Admission Procedures, Infrastructure, Hostel Facilities, Hospital Details which will help you to decide the choice selection during the time of MBBS PG Admission Counselling.
Introduction
Adesh Medical College Kurukshetra was established in the year 2017.The establishment of Adesh Medical College and Hospital will fulfill the long day dream of the people of the region, Mohri, Haryana state.
When launched the first multi-specialty referral hospital in 1989, its mission was to provide world-class quality healthcare in India. It manages a network of specialized and super specialty hospitals and clinics, and provides technical, medical and ancillary medical education.
The establishment of the new Medical College will not only augment the facilities available in the medical services but will also have all the medical and paraclinical specialized units in its teaching hospital as per the MCI standards. Adesh Medical College & Hospital is an institute that redefines the best quality of health care services and brings the best infrastructure, technology, training, education and medical intelligence. Uncomparable quality and cutting-edge technology and medical intelligence enable us to provide customized health care services.
Table of Contents
1. Quick Summary
2. MBBS Course
2.1. Seats and Tuition Fees
2.2. NEET 2021 Cutoff
2.3. College Ranking
2.4. Bond Details and Stipend
3. PG Courses MD MS
3.1. Seats and Tuition Fees
3.2. Bond Details and Monthly Stipend
4. Infrastructure
5. Facilities
6. Affiliated Hospitals
7. How to Reach
Quick Summary
| | |
| --- | --- |
| Established | 2017 |
| Institution Type | Private |
| Affiliated University | PT. B.D. Sharma University of Health Sciences, Rohtak |
| Total Beds | 300 |
| Post Graduate Courses | 9 |
| Super Speciality Courses | – |
| Other Names | Adesh Medical College Kurukshetra, Adesh Medical College Hospital Kurukshetra, AMC Kurukshetra, Kurukshetra Medical College, Kurukshetra Hospital |
| Address | AMCH, NH-1, Near Ambala Cantt., Village. Mohri,Shahabad, Kurukshetra 136135, India. |
| Website | http://amch.ac.in/ |
| Contact | 0171-2700000, 2700001, 2700025, 0171-2700025, 01744-330046 |
| Mobile | – |

Know More About Counselling Tools >>
Which Medical College You Have Chance To Get?
Every candidate wants to know the type of college and quota they have chance to get for their NEET score/rank. This will help them decide the probable fees structure range.
Do you know NEET Admission counselling tool used by 1 lakh+ NEET UG/PG candidates to predict and pick best medical college in counselling within their budget? Read More >>
MBBS Course
Admission to Adesh Medical College Kurukshetra is based on the score obtained in National Eligibility cum Entrance Test(NEET-UG) conducted by National Testing Agency(NTA).
MBBS Seats and Tuition Fees
Adesh Medical College Kurukshetra MBBS Seats and tuition fees for various quota is given below. Apart from tuition fees, you need to pay various other fees during admission.
| Seats | Government Fees | Management Fees | NRI Fees |
| --- | --- | --- | --- |
| 150 | – | ₹ 1000000 | $ 27500 |
MBBS NEET 2021 Cutoff
Knowing Last Year Adesh Medical College Kurukshetra closing score for round 1 Counselling will help you to predict your possibility to get this medical college. Install MBBSCouncil App to know All India Closing Rank for all rounds of counselling.
Haryana State Quota Seats (SQ) Closing NEET 2021 Score Cutoff
| Category | Score |
| --- | --- |
| GN | 534 |
| BCB | 407 |
| SD | 383 |
| SC | 380 |
| BCA | 319 |
Management Quota Seats (MQ) Closing NEET 2021 Score Cutoff
Non – Resident Indian Seats (NRI) Closing NEET 2021 Score Cutoff
Install MBBSCouncil App to see Non – Resident Indian Seats (NRI) quota cutoff for all rounds.
If you could not understand above category abbreviations, to know complete list of your state's quota and reservation categories, click here >>
How to Predict Your Chance With High Accuracy?
Knowing closing state rank and community rank cut off will increase your prediction accuracy to get seat under state quota in government medical colleges and private medical colleges. Read More on How To Predicting Your College Accurately>>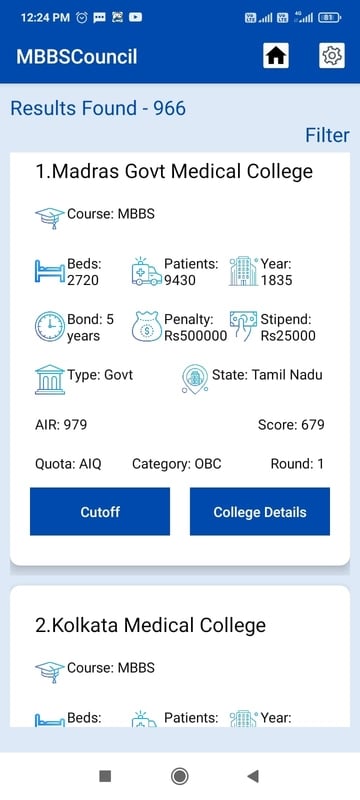 MBBS College Ranking
College Ranking is based on How Parents and Students Preferred Adesh Medical College Kurukshetra during NEET UG 2021 MCC and state counselling.
| | |
| --- | --- |
| NRI Rank | 90 |
| State Rank | 7 |
| State Management Rank | 1 |
MBBS Bond Details and Stipend
After MBBS course completion in Adesh Medical College Kurukshetra, candidates are obliged to complete compulsory rural service. If candidates skip service, they need to pay penalty to proceed for medical council registration / post graduate studies. Details of Service Years and Penalty is given below. During the study, interns are entitled to get monthly stipend.
| | |
| --- | --- |
| Total Years | 0 |
| Penalty | ₹ 0 |
| Stipend | No Data Available |
NEET Counselling Guidance
MBBSCouncil Android App - The only App you need for NEET UG/PG/SS counselling which contains everything you need to know to get best medical college for your NEET Rank.
PG Courses MD MS
Admission to Diploma(DIP),Doctor of Medicine(MD), Master of Surgery(MS) available in Adesh Medical College Kurukshetra are based on the score obtained in National Eligibility cum Entrance Test(NEET-PG) conducted by National Board of Examinations Agency(NBE).Doctors after completing 1 year internship can take admission in this medical institution either through All India Medical Counselling (All India Quota – 50% of MD/MS seats) or through Haryana State medical counselling (State Quota – 50% MD/MS Seats) conducted by state medical authorities.
PG Seats and Tuition Fees
Find Adesh Medical College Kurukshetra course wise seats and fees for PG course .
NEET 2021 PG Cut off Details & Tuition Fees For All Courses
Latest NEET PG 2021 All India Closing Rank Cut off details are available in MBBSCouncil Android App for all PG courses in all medical colleges/hospitals under all rounds for both All India and State Counselling.
Click To Install MBBSCouncil App Now >>
PG Bond Details and Monthly Stipend
Find Adesh Medical College Kurukshetra PG courses compulsory years of service and penalty amount mentioned in the rural service bond is given below. The monthly stipend amount received during the study period is also given below.
| | |
| --- | --- |
| Total Years | No Data Available |
| Penalty | No Data Available |
| Stipend | No Data Available |
Infrastructure
The Medical College has acquired 29 acres 04 coal 07 marla single plot land. Accommodation is provided in college buildings, dormitories, teaching and non-teaching staff accommodation, laundry, animal house, etc. The office room of the college has 167 sq .m, recording room with 107 sq m, separate public room for boys with 186 sq m and Girls room with 184sq.m with attached toilets, canteen has occupied 1423.5 sq.m.
Lecture Hall
Adesh Medical College has 2 lecture halls which are fully air conditioned, gallery type with seating capacity of 180 students each in the Medical College building. Lecture halls are provided with the necessary independent audio visual aids including overhead projector, slide projector, LCD projector and microphone. These lecture halls are systematically shared by all departments with a quota for e-class. There are facilities to convert the lecture halls into an e-class / virtual class for teaching. Under the guidance of the Medical Council of India, the hospital building has arrangements for a lecturer theater capable of 200 students.
Arrangements are in place for two auditoriums of 750 square meters each with a capacity of 250 each. These are the flat type with enough space between the two students. Central photo and audio visual units have occupied the area of 46 sq.m provided with studio, dark room, extension and shelter for photostat work. The College provides the accomodation for medical illustrators and models. Microphotography and mounting facilities are provided by the college.
Facilities
Library
The Air Conditioning Central Library is built with an area of 2632 sqm which has seating for at least 75 students as required during the LOP phase. It is well lighting and well ventilated to store books and magazines. There is a room for 150 students inside and a room for 150 students outside. It contains over 3200 text and reference books. There are more than 15 Indian magazines and more than 14 foreign magazines. Apart from these, there are 75 e-magazines. These are regularly subscribed by the students.
A staff reading room has the capacity of 30 people, rooms for librarian and other staff, Video and cassette room, Press room with Copying facilities are available.
Air-conditioned computer room with 40 nodes and internet facility.Library services are available 12 hours a day, from 09.00 am to 09.00 pm. Each department has separate departmental libraries in the fields of pre-medicine, paramedics and medicine with more than 80 books. The Medical College has competent laboratories and has adopted information technology in teaching medicine. There is an arrangement for an e-library in which 75 e-journals are subscribed.
Hostel
There is a men's hostel and a women's hostel on the college campus. The hostel accommodates at least 75% of the total student intake at any given time. During the LOP phase, 60 boys will be accommodated in 30 rooms in the boys hostel and 60 rooms in the girls hostel. Each accommodation room will have two occupants with attached toilet facilities. Each student is provided with independent and individual furniture, which includes at least a chair, table, bed and full size cupboard. In a single sitting room it is at least 9 square meters area. Each hotel has a visitor room, a study room with computer and internet facilities, which is air-conditioned. There is a room with entertainment facilities like T.V., music, indoor games. Messing facilities for students are available in hostels with proper dining facilities. The medical college has two separate common rooms for boys with186 sq m and women's room with 184 sq m.
For male junior residents, 15 rooms with attached toilet facilities in the men's hostel building are reserved for 30 male junior residents, two occupants in each room. For the female junior apartment, there are 8 two-bedroom apartments in the B-block, with 32 female junior residents, four occupants in each of the two bedrooms and two occupants in each room with drawing, dining, kitchen and attached toilet facilities.
For senior residents, 10 two-bedroom apartments in the B-block with drawing, dining, kitchen and attached toilet facilities are reserved for 20 senior residents for two residents in a two-bedroom apartment, one occupant in each room. For nurses, 30 rooms with toilet facilities attached to the women's dormitory building are reserved for 90 nurses having three occupants in each room. For teaching staff, 14 two-bedroom apartments in B-block with drawing, dining, kitchen and attached toilet facilities are reserved for families with at least 14 teaching teachers. For non-teaching staff, C-Block with kitchen, attached toilet facility 28 Two-room set-up quarters with family is reserved to accommodate at least 28 non-teaching staff.
Cafeteria and Mess
A restaurant with 1423.5 Sq.m is provided for teaching and non-teaching staff, students and visitors. Drinks, snacks and fast food are available during work hours. There are separate mess facilities for men's hostel, women's hostel, residents and nurses. The menus are prepared by the men's management team and the meals are reviewed and supervised by wardens, hostel supervisors, food experts and college council members.
Sports and Recreation
There is a playground and a gym available for staff and students. Playground occupies an area of 18540.48 square meters and Gym occupies the area of 154 square metersA qualified physical education instructor overseas sports activities and maintenance. The hotels have entertainment facilities like TV, music, indoor games etc are provided. For the outdoors, playgrounds have been developed on campus. Recreational activities are also organized from time to time.
Get Free NEET Counselling Reminders/Tips
Get every important NEET Counselling notifications from all counselling authorities to your mobile so that you never miss any deadline. Show Me How >>
Affiliated Hospitals
Adesh Medical college hospital started with a capacity of 300 beds and now its become 650 beds with a multi-specialty hospital. The hospital has more than 1000 patients and their assistants with ample space to wait for their registration, buying medicines at the pharmacy on one side or waiting for relatives. A day care center (CRECHE) has been set up on the Medical College campus with adequate facilities to care for the children of infants and female students / working individuals and sick students.
Hospital Facilities
Facilities are provided at the hospital for drying, pressing and storing dirty and cleaned materials. There are adequate sanitary facilities like toilets and bathrooms for women separately and safe series of drinking water facilities are provided for teaching staff, students, technicians and all staff. ICU Campus occupies Medical Intensive Care Unit (ICU), Intensive Cardiac Care Unit (ICCU), Respiratory Intensive Care Unit (RICU), Surgical Intensive Care Unit (SICU), Pediatric Intensive Care Unit (PICU), Neonatal Intensive Care Unit (NICU) ) And the renal dialysis unit. The hospital has state-of-the-art operating theaters with state-of-the-art equipment in the anesthesiology department. Two image intensifiers (C-arm) are installed in the operation theaters. The hospital has a fully-fledged, licensed modern blood bank. The hospital has several operating theaters and beds, including critical care beds with various specialties.
Laboratory
The hospital has 6 laboratories. All of these labs are commonly used with different disciplines. Histology and histopathology, Hematology and physiology; Biochemistry and medical pharmacology; Pharmacology and physiology; Such as microbiology and community medicine in terms of sharing.
Health Centres – Rural/Urban Health Training Centres
RHTC – located in, km away from the college
UHTC – located in,  km away from the college
How to Reach
Adesh Medical College Hospital is located on National Highway No. 1 in Mohri, a village nearby Ambala town and Ambala cantonment which is 10 km from Ambesh JN railway station. The area is surrounded by numerous small towns and many villages with dense populations. National Highway – 1 is located on the outskirts of Ambala that is 10 km from Ambala JN Railway Station.
A 20 acre community has been set aside for the Medical College and Teaching Hospital project. The land is a continuous single plot and directly confronts NH-1.The nearest airports are at Delhi and Chandigarh, which are well connected to Kurukshetra by road and rail. Taxi services are also available from airports. Delhi is 160 km from Kurukshetra.
Worth Exploring
1.
Which Medical Colleges you should avoid during Choice Filling >>
2.
How To Rank Medical Colleges Quality For Choice Filling >>
3.
How to Predict Your College Accurately For Your Rank >>
4.
NEET Admission Counselling Tips >>

Filter Medical Colleges Within Your Budget >>