Find AIIMS Mangalagiri, Guntur, Andhra Pradesh Cut off, Admission Procedure, Hospital, Course Fees, Available Courses, Ranking, Infrastructure, Internship, Hostel Facilities details for NEET Counselling.

Table of Contents
1. Quick Summary
2. MBBS Course
2.1. Seats
2.2. Fees
2.3. Cut off 2022
2.4. Ranking
2.5. Bond Details and Stipend
2.6. Admission Additional Details
2.7. Fees Structure
3. Infrastructure
4. Hostel
5. Affiliated Hospitals
6. How to Reach


Quick Summary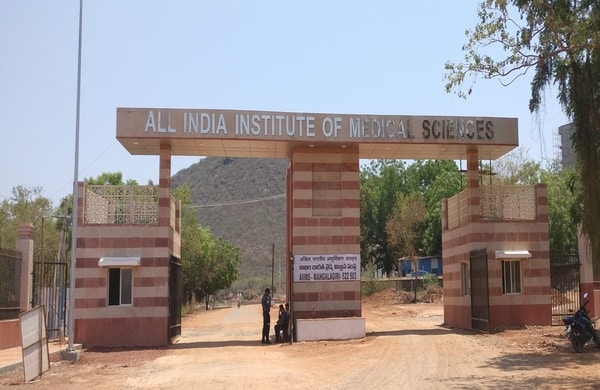 All India Institute of Medical Sciences, Mangalagiri was designed to serve as a medical center for providing all health aspect programs throughout the Indian states.
The mission of the AIIMS Mangalagiri is to educate diverse health professionals to eliminate people's diseases.
In 2018 the AIIMS, Mangalagiri was started and functioning at the temporary campus of Siddhartha Government Medical College in Vijayawada.
Now, it is located in the Guntur district of Andhra Pradesh, constructed for the use of the people and the college & hospital is fully operational with all kinds of needed facilities.

Click down arrow to see details.
AIIMS Mangalagiri Seats ▼

MBBS Seats available in AIIMS Mangalagiri is.

Find other colleges which has the same number of seats, click here.
AIIMS Mangalagiri MBBS Tuition Fees
AIIMS Mangalagiri MBBS fees for various quota is given below. Apart from tuition fees, you need to pay various other fees during admission.
| | |
| --- | --- |
| Government Fees | ₹ 5856 /Year |
Click here to explore other colleges in this fee range.
Andhra Pradesh MBBS Admission Counselling Process
You need to know up-gradation rules, nativity clause, Andhra Pradesh state rank list, other fees apart from tuition fees, compulsory service bond, allotment rules, round eligibility rules, medical college type and many more for avoiding any mistake in college selection.


AIIMS Mangalagiri Cut off 2022
Knowing Last Year AIIMS Mangalagiri cut off for all rounds of Counselling will help you understand your possibility for this college. To know cut off for all rounds, install MBBSCouncil app.
Institute of National Importance Quota Seats (OPQ) NEET 2022 Score Cutoff
Install MBBSCouncil App to know All India Rank cut off for all medical college in all rounds of counselling.
AIIMS Mangalagiri Ranking ▼
Click down arrow to see details.
Bond Details and Stipend ▼

After MBBS course completion in AIIMS Mangalagiri, candidates should undergo compulsary service after internship . If they skip, they need to pay penalty as per compulsary service bond.

| | |
| --- | --- |
| Total Years | 0 |
| Penalty | ₹ 0 |
| Stipend | ₹ 26300 /month |

Are you looking admission in any other state ? Find their rural/compulsory service rules by installing the app to know the details.
Looking for some other medical college ?. See list of all medical colleges in Andhra Pradesh.
Admission Additional Details ▼

Find AIIMS Mangalagiri additional details given by this institution to Medical Counselling committee.

| | |
| --- | --- |
| Male Hostel | Yes |
| Female Hostel | Yes |
| Other Info | Academic fees 1628 and Hostel fees 4228 only once for the entire MBBSCourse.For further information on regarding institutional hostel mess etc related can be checked in AIIMS Mangalagiri website. |
| Name of the Dean | Dr JOY A GHOSHAL |
| Name of the Nodal Officer | Dr DESAI VIDYA SRIPAD |
| Designation | Dean |
| Office Address | DEPARTMENT OF BIOCHEMISTRY AIIMS MANGALAGIRI |
| Phone | 0866-2454529 |
| Email | desai.vidya[at]aiimsmangalagiri.edu.in |
Share your experience and help medical aspirants choose best college…
AIIMS Mangalagiri Fees Structure
| Course Type | Fees Type | Description | Fees |
| --- | --- | --- | --- |
| UG | OneTime | Registration Fee | 25 |
| UG | OneTime | Hostel Deposit Refundable | 1000 |
| UG | OneTime | Pot Fund Hostel | 1320 |
| UG | OneTime | Laboratory Fees | 90 |
| UG | OneTime | Student Union Fee | 63 |
| UG | Monthly | Mess Fees NonVeg | 3500 |
| UG | OneTime | Tuition Fees | 1350 |
| UG | OneTime | Electricity Charges | 198 |
| UG | OneTime | Hostel Rent For 5 Years | 990 |
| UG | OneTime | Gymkhana Fee Hostel | 220 |
| UG | OneTime | Mess Deposit Refundable | 500 |
| UG | OneTime | Caution Deposit | 100 |
| UG | Monthly | Mess Fees Veg | 3200 |
MBBSCouncil Users Allotted in this College
AMBULA SIDDHARDH
AIR 2083
OPQ GN
Alloted in 2021
KORLA ADITYA
AIR 4389
OPQ OBC
Alloted in 2021
JASWANTH
AIR 1970
OPQ OBC
Alloted in 2022
During NEET 2021 and 2022 counselling, 26 candidates got allotment in AIIMS Mangalagiri.
Infrastructure ▼

All India Institute of Medical Sciences, Mangalagiri has incorporated some new teaching methods in the MBBS curriculum so that learning medical studies are much easier for the students.
Through this perspective learning experience, students can understand the subject matter within a short period, which makes them effective in their clinical practice.
All India Institute of Medical Sciences, Mangalagiri is situated with 183 acres of land area.
The Mangalagiri campus has modern infrastructures which holding the medical college with an area of 19,647 sq.mt.
AIIMS Mangalagiri camps own the administrative block with an area of 4,826 sq.mt along with the academic block, lecture theatres, classrooms, dissections halls, demonstration halls, hostel, library, sports, canteen, mess, auditorium with an area of 6,980 sq.mt which holds the capacity of 690 people.
Also, the campus having separate parking facilities for two-wheelers & four-wheelers.
Click down arrow to see details.
Hostel ▼

The All India Institute of Medical Sciences, Mangalagiri hostel provides good accommodation to its students with all needed amenities to give them a pleasant stay while their study period.
The girl's hostel has a totally 79 of rooms, in this 40 single and 39 double bedded rooms are available with the area of 2334 sq.mt.
The boy's hostel owns totally 123 of double-bedded rooms with an area of 4910 sq.mt.
The AIIMS hostel has facilities of common rooms, library, play area for indoor games, gym facilities etc.
Separate ug hostel for male & female students, separate pg hostel for male & female students, residential hostel block for male & female nurses and staffs. All of the hostels have been provided 24×7 electricity and water supplies with R.O purified systems.
Also, canteen & mess facilities are provided in the AIIMS hostels. All of the hostel rooms are comfortably furnished to get the feeling of their home with all kinds of facilities such as cupboards, study tables & chairs, cot & mattress.
The AIIMS Mangalagir hostel mess serves a good healthy breakfast and hygienic southern & northern foods for lunch and dinner with veg & non-veg recipes also canteen facilities are available on the campus itself.
Sports and recreation facilities are available in the AIIMS Mangalagiri campus to engaging the students through games and physical activities.
Affiliated Hospitals ▼

All India Institute of Medical Sciences, Mangalagiri is affiliated with its own it's hospital block with a build-up area of 93,532 sq.mt and it consists 960-bed facility along with 24 operation theatres to treat the patients.
The AIIMS Mangalagiri hospital brings the most talented medical professionals and a dedicated team of physicians to provide the highest level of patient care to affected people.Initially, the hospital is operated at the Siddhartha government medical college and hospital in Vijayawada.
On the year March 2019 OPD services were started in the Mangalagiri campus at Guntur.
AIIMS Mangalagiri treats approximately 2,030 outpatients per month.
The AIIMS hospital performs a wide range of procedures to take care of both inpatients and outpatients.These are the medical services provides by AIIMS Mangalagiri such as inpatient & outpatient, intensive care, speciality, super speciality, AYUSH and so on.
The following multi-speciality services are offered in the AIIMS Mangalagiri hospital with the department of general medicine, general surgery, gynaecology & obstetrics, paediatrics, orthopaedics, ENT, ophthalmology, dermatology, psychiatry, dentistry, anesthesiology, and community and family medicine to these outpatients they are getting better treatment facilities to cure their day to day diseases.
Primary Health Training Centres : PHC I (RHTC) – located 00 kms from the college, PHC II (UHTC) – located 00 kms from the college.
How to Reach
All India Institute of Medical Sciences, Mangalagiri is located on the Mangalagiri campus at Guntur district in Andhra Pradesh.
AIIMS, Mangalagiri has located 13.3 km away from the Vijayawada railway station with a reaching time of 28 minutes.
All India Institute of Medical Sciences, Mangalagiri has located 30 kilometres away from the Vijayawada international airport with a reaching time of 54 minutes.
AIIMS college transport facilities are available on all working days and it's operated from Mangalagiri campus to Vijayawada campus and its surrounding areas.
Mangalagiri bus stand locates 3.2 km away from the AIIMS campus with a reaching time of 10-15 minutes.
Mangalagiri railway station located 2.6 km away.
Guntur railway station located 24 km away.
Vijayawada bus stand located 12 km away.
Guntur bus stand located 23 km away from AIIMS, Mangaalagiri.
Worth Exploring