Find Bharath Medical College, Chennai, Tamil Nadu Cut off, College / Course Ranking, Tuition Fees, Courses, Admission Procedures, Infrastructure, Hostel Facilities, Hospital Details which will help you to decide the choice selection during NEET Admission Counselling For MBBS Courses.
Table of Contents
1. Quick Summary
2. Bhaarath Medical College MBBS Course
2.1. Seats
2.2. Tuition Fees
2.3. Cut off 2021
2.4. Ranking
2.5. Bond Details and Stipend
2.6. Admission Additional Details
3. Bharath Medical College Fees Structure
4. Infrastructure
5. Hostel
6. Affiliated Hospitals
7. How to Reach
Quick Summary
| | |
| --- | --- |
| Established | 2020 |
| Institution Type | Deemed University |
| Affiliated University | Bharath Institute of Higher Education and Reasearch, Chennai |
| Total Beds | 300 |
| Average Patients | Install MBBSCouncil App |
| Post Graduate Courses | – |
| Super Speciality Courses | – |
| Details | Non A/C Hostel- Rs 75000/Year, A/C Hostel- Rs 2 Lakhs/Year, Mess Fees – Rs 4K-5K/Month. Tution Fees to be paid for 5 Years. Hospital Established in 2013. |
| Other Names | Bhaarath Medical College and Hospital |
| Address | Bhaarath Medical College & Hospital, 173 Agaram Main Road, Selaiyur, Chennai-600073, Tamil Nadu |
| Official Website | https://bmch.ac.in/ |
| Contact | 044-61116222 |
| Mobile | +91 97873 03902 |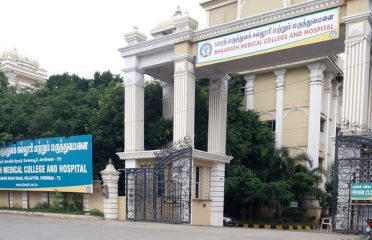 Sri Lakshmi Ammal Educational Trust was established in 1984.
The aim of this trust is to establish various types of education centers.
That's why the Bharath Institute of Higher Education and Research deemed university was established under the aegis of Sri Lakshmi Ammal Educational Trust to impart higher knowledge in Science & Technology.
The Bharath Institute was started in the same year 1984, after that it was acquired the deemed university status in 2003 by the UGC.  Over 29 years the BIHER granted quality education to transform the students efficiently and successfully in their careers.
The students who have graduated from BIHER, serving in responsible positions in India & Abroad.
They are entering the medical field in the year 2020 to make a healthy society through their education and medical treatment.
Through these educational centres, they are offering the rights to pursue a professional course as per the students choice.
Want To Know Which Medical College You Have Chance To Get?
Bhaarath Medical College MBBS Course
Admission to Bhaarath Medical College is based on the score obtained in National Eligibility cum Entrance Test(NEET-UG) conducted by National Testing Agency(NTA). Duration of MBBS course is 4.5 years + one year compulsory rotating medical internship.
Bhaarath Medical College and Hospital Seats
Bhaarath Medical College and Hospital Total MBBS Seats Is Given Below.
Bharath Medical College Tuition Fees
Bharath Medical College MBBS Tuition fees for various quota is given below. Apart from tuition fees, you need to pay various other fees during admission.
| | |
| --- | --- |
| Management Fees | ₹ 2300000 /Year |
| NRI Fees | $ 60000 /Year |
Tamil Nadu MBBS Admission Counselling Process
You need to know TN medical college types, various quotas, Tamil Nadu domicile rules, TN state rank list, choice filling techniques, allotment and up-gradation rules, compulsory service bond, penalty clause, and many more to avoid making counselling mistake.
1.
Get MBBS Admission Counselling Guide >>
2.
Read Last Year Schedule of Tamil Nadu Counselling Events >>
3.
Get Tamil Nadu MBBS Counselling Guide >>

Bharath Medical College Cut off 2021
Knowing Last Year Bharath Medical College score cutoff for round 1 Counselling will help you to predict your possibility to get this medical college.
Management Quota Seats (MNQ) NEET 2021 Score Cutoff
| Category | Cut off Score | Cut off Rank |
| --- | --- | --- |
| MNG | 109 | Know More |
Install MBBSCouncil App to know All India Rank cut off for all medical college in all rounds of counselling.
Get Free NEET Counselling Reminders/Tips
Get every important NEET Counselling notifications from all counselling authorities, so that you never miss any deadline. Subscribe Now >>
Bharath Medical College Ranking
College Ranking is based on How Parents and Students Preferred Bharath Medical College during NEET UG 2021 MCC and state counselling.
| | |
| --- | --- |
| Quota Type | Ranking |
| All India Management Ranking | 45 |
Bhaarath Medical College Bond Details and Stipend
After MBBS course completion in Bhaarath Medical College, candidates are obliged to complete compulsory rural service. If candidates skip service, they need to pay service bond penalty to proceed for medical council registration / post graduate studies. Details of Service Years and Penalty is given below. During the study, interns are entitled to get monthly stipend.
| | |
| --- | --- |
| Total Years | 0 |
| Penalty | ₹ 0 |
| Stipend | No Data Available |
MBBS Colleges In Chennai
Looking for some other medical college ?. See list of all medical colleges in Tamil Nadu.
Bharath Medical College Admission Additional Details
Find Bharath Medical College additional details regarding MBBS course given by medical college to Medical Counselling committee.
| | |
| --- | --- |
| Male Hostel | Yes |
| Female Hostel | Yes |
| Other Info | NRI CATEGORY – 22 Seats allotted . $60000 fees per year. |
| Name of the Dean | DR ARUNACHALA D EDUKONDALU |
| Name of the Nodal Officer | Dr M Vijayamalathi |
| Designation | Reporting Official |
| Office Address | 173 AGARAM MAIN ROAD SELAIYUR 600073 |
| Phone | 044-61116215 |
| Email | admissions[at]bmch.ac.in |
| Mobile | 9841740598 |
Share your experience to help medical aspirants
Bharath Medical College Fees Structure
| Course Type | Fees Type | Description | Fees |
| --- | --- | --- | --- |
| UG | Yearly | Tuition Fee | 2300000 |
| UG | OneTime | University Registration Fee | 5000 |
| UG | OneTime | Admission Form, Eligibility Certificate Fee and Record note books etc | 5000 |
| UG | Yearly | Health Insurance premium | 3000 |
| UG | OneTime | College Caution Deposit refundable | 50000 |
| UG | Yearly | NRI $ | 60000 |
| UG | Yearly | Hostel fee Non A/C room | 75000 |
| UG | Yearly | Hostel fee A/C room | 200000 |
| UG | OneTime | Hostel Caution Deposit refundable | 50000 |
| UG | Monthly | Mess Fee (4500 to 5500) | 5500 |
🩺 MBBSCouncil Users Alloted in this College
PRIYANSHU RAJ
AIR 753623
MNQ MNG
SYED JAVED SYED FAKHIR
AIR 777950
MNQ MNG
During NEET 2021 counselling, 5 candidates got allotment in Bhaarath Medical College.
Infrastructure
The BIHER Educational Groups are spread over 603 acres of 6 campuses in different places of TamilNadu & Puducherry states and it is filled with greenery and landscaped gardens that have been providing a congenial learning experience to the students.
The BIHER is providing a various stream of educational courses in that medicinal studies is an important one.
The Bhaarath MC gives great importance to the student's welfare with a secured college campus that is built by the state of the art infrastructure of classrooms, library, museum, seminar halls, examination halls, auditorium, dissection halls, demonstration halls, highly equipped laboratories and much more.
Bhaarath MC faculty members are well-qualified and have great experience in their teaching career.
These good people will take care of the student's disciplined behaviors and their academic studies.
Bhaarath medical college and hospital, Chennai offers a central library facility which is located on the 3rd floor of the BMCH college block with an area of 1200 sq.mt.
The library operates on all working days between 8:00 am to 8:00 pm.
The BMCH library has a reading hall facility that accommodates 150 persons at a time and another reading hall separately available for the staff members which accommodates 30 persons.
The college central library has an interactive audio-visual room with a seating capacity of 50 persons.
The total number of books available in the BMCH is 4,017.
which covers all the medical departments.
Also, it has a wide range of 20 national and 6 international journals.
This library is attached to an internet connection facility which contains 40 computer systems for accessing ebooks and e-journals.
Hostel
BIHER campus consists of 5 separate hostels which accommodate nearly 1500 students in this 4 hostels for boys and 1 hostel for girls students.
Also, an effort has been put in to provide the best hostel facilities for students to live on the Bhaarath MC campus.
These hostel rooms have single cot, double cot, triple cot beds available with sharing basis and separate air-conditioned rooms also available.
All hostels are having mess, laundry, gym, internet facilities.
Students having the full support for their activities to utilize their time as productive.
All hostel blocks are enabled with a wifi facility and fully connected by water & electricity supplies @ 24×7.
There are affordable food services on the hostel campus with RO enabled water plant system offering hygiene water facility to the students.
The following sports and games facilities are available on the Bhaarath MC campus to encourage the student's interest in sports events and cultural activities like volleyball, basketball, football, cricket, throwball, badminton, athletics, yoga gymnasium and others.
The BIHER campus provides Transport facilities for the benefits of staffs and students along with that Punjab National Bank and ATM facility also provided.
What Our Premium Customer Say About us?
"My friend suggested MBBSCouncil App. I have taken the app and gotten the guidance. The team forwards information on lot of medical college information in Tamil Nadu and other states also. I have applied to Karnataka, and Punjab also. Finally, got allotted from CMC Ludhiana. Thanks for your guidance."
Ms . Tirzah Sharon - Christian Medical College Ludhiana
Affiliated Hospitals
The Bhaarath MC is affiliated with its own hospital which tries to give better medical treatment to everyone.
The BMCH having 300 beds and number of  Emergency beds 20 multispecialty hospitals located within the BIHER campus located in Chennai, which holds out-patient & in-patient services.
The hospital provides all types of emergency, casualty and all kinds of super speciality services are available around the clock 24X7 with efficient doctors.
Outpatient consultations are available on all working days from 9:00 am to 3:00 pm.
The Bhaarath hospital treats 608 outpatients per day approximately.
The central laboratory facilities and intensive care unit services are available around the clock on all days to do the analysis and treatments.
Bhaarath hospital having 4 major & 2 minor operation theaters are well-equipped to handle all types of surgeries.
All types of treatment facilities are available through its departments of General Medicine, General Surgery, Dermatology, Dental Surgery, ENT, Obstetrics & Gynaecology, Ophthalmology, Orthopaedics, Psychiatry, Paediatrics etc.
Health Care Centres – Primary Health Centres PHC I (RHTC) – located 00 kms from the college.
Rural/Urban Health Training Centres PHC II (UHTC) – located 00 kms from the college.
How to Reach
The Bhaarath medical college and hospital is located on the vast BIHER campus at Selaiyur.
So, we can easily access this college anywhere in the Chennai city limits.
BMCH is located 2 km away from the Tambaram railway station and Tambaram bus stations also it is well connected by autos and taxis.
Bhaarath MC, Chennai is located 19 kilometers away from the Chennai International Airport.
We can reach this college in 37 minutes.

Worth Exploring
1.
Which Medical Colleges you should avoid during Choice Filling >>
2.
How To Rank Medical Colleges Quality For Choice Filling >>
3.
How to Predict Your College Accurately For Your Rank >>