Find Dr BSA Medical College, North West Delhi, Delhi Cut off, College / Course Ranking, Tuition Fees, Courses, Admission Procedures, Infrastructure, Hostel Facilities, Hospital Details which will help you to decide the choice selection during NEET Admission Counselling For MBBS Courses.
Table of Contents
1. Quick Summary
2. BSAMCH Delhi MBBS Course
2.1. Seats
2.2. Tuition Fees
2.3. Cut off 2021
2.4. Ranking
2.5. Bond Details and Stipend
2.6. Admission Additional Details
3. Dr BSA Medical College Fees Structure
4. Infrastructure
5. Hostel
6. Affiliated Hospitals
7. How to Reach
Quick Summary
| | |
| --- | --- |
| Established | 2016 |
| Institution Type | Government |
| Affiliated University | Guru Gobind Singh Indraprastha University |
| Total Beds | 540 |
| Average Patients | Install MBBSCouncil App |
| Post Graduate Courses | – |
| Super Speciality Courses | – |
| Other Names | Dr Baba Saheb Ambedkar Medical College, BSAMCH Delhi |
| Address | Dr. B.S.A. Medical College, Sector-6, Rohini, Delhi-110085 |
| Official Website | http://bsamch.ac.in/ |
| Contact | 011-27058778 |
| Mobile | – |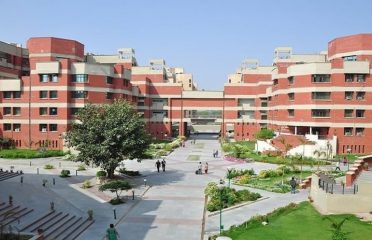 Dr Baba Sahib Ambedkar Medical College (BSAMC) is an academic health sciences centre which is established in 2016 at exiting hospital with an aim of excellence in the field of teaching and to provide leadership.
Want To Know Which Medical College You Have Chance To Get?
BSAMCH Delhi MBBS Course
Admission to BSAMCH Delhi is based on the score obtained in National Eligibility cum Entrance Test(NEET-UG) conducted by National Testing Agency(NTA). Duration of MBBS course is 4.5 years + one year compulsory rotating medical internship.
Dr Baba Saheb Ambedkar Medical College Seats
Dr Baba Saheb Ambedkar Medical College Total MBBS Seats Is Given Below.
Dr BSA Medical College Tuition Fees
Dr BSA Medical College MBBS Tuition fees for various quota is given below. Apart from tuition fees, you need to pay various other fees during admission.
| | |
| --- | --- |
| Government Fees | ₹ 101000 /Year |
Delhi MBBS Admission Counselling Process
You need to know medical college types, various quotas, hidden fees, Delhi domicile rules, choice filling techniques, allotment rules, up-gradation rules, service bond, penalty, stipend, last year closing cut off, in order to avoid making any mistake during counselling.
If you are not familiar with any of the above, and looking forward to learn from pioneers of NEET counselling, begin your learning with us by reading the beginner's guide.
1.
Get NEET Counselling Beginner's Guide >>

Dr BSA Medical College Cut off 2021
Knowing Last Year Dr BSA Medical College score cutoff for round 1 Counselling will help you to predict your possibility to get this medical college.
All India Quota Seats (AIQ) NEET 2021 Score Cutoff
Install MBBSCouncil App to know All India Rank cut off for all medical college in all rounds of MCC NEET counselling.
Our Users Who Got Allotted in this College
JARIWALA ESHAAN RAHUL
AIR 496
AIQ GN
PRATHAM CHAWLA
AIR 590
AIQ GN
During NEET 2021 counselling, 2 candidates got allotment in BSAMCH Delhi.
Delhi State Quota Seats (SQ) NEET 2021 Score Cutoff
Install MBBSCouncil App to know Delhi Rank cut off and Delhi category rank cut off for all medical colleges in all rounds of Delhi state NEET counselling. Wondering what above category abbrevation means, check all Delhi reservation categories.
How To Avoid NEET Counselling Mistake?
Knowing Education Quality and Clinical Exposure of every medical college you want to put in your choice list will help you avoid any counselling mistake. Install MBBSCouncil App to know beds, patient flow, PG courses for all Indian medical colleges.
Dr BSA Medical College Ranking
College Ranking is based on How Parents and Students Preferred Dr BSA Medical College during NEET UG 2021 MCC and state counselling.
| | |
| --- | --- |
| Quota Type | Ranking |
| All India Ranking | 12 |
| Delhi State Ranking | 3 |
BSAMCH Delhi Bond Details and Stipend
After MBBS course completion in BSAMCH Delhi, candidates are obliged to complete compulsory rural service. If candidates skip service, they need to pay service bond penalty to proceed for medical council registration / post graduate studies. Details of Service Years and Penalty is given below. During the study, interns are entitled to get monthly stipend.
| | |
| --- | --- |
| Total Years | No Data Available |
| Penalty | No Data Available |
| Stipend | No Data Available |
No other medical colleges in North West Delhi.
Dr BSA Medical College Admission Additional Details
Find Dr BSA Medical College additional details regarding MBBS course given by medical college to Medical Counselling committee.
| | |
| --- | --- |
| Male Hostel | Yes |
| Female Hostel | Yes |
| Name of the Dean | DR. ANIL AGARWAL |
| Name of the Nodal Officer | MR. J.S.RAWAT |
| Designation | Dean |
| Office Address | BSA MEDICAL COLLEGE ROHINI SEC-6 DELHI – 110085 |
| Phone | 011-27053391 |
| Email | bsamchacad[at]gmail.com |
| Mobile | 9873403787 |
Share your experience to help medical aspirants
Dr BSA Medical College Fees Structure
……….
Infrastructure
The Ambedkar Medical College (BSAMC) Delhi is situated with a spread over an area of 29.4 acres in existing campus, where the Dr Baba Saheb Ambedkar Hospital is located.
The infrastructure includes state of art library, a yoga centre, the Computer Aided Laboratory, the Learning and Skill Center for teaching and training with the latest IT based simulation technology centre etc.
The college has total 3 nos of Lecture Theatre located in the unified LT complex, out of 2nos with 120 seating capacity and one with 250 capacities.
The same complex one state of the art centrally air-conditioned Auditorium with a seating capacity of 500 is available and which is enabled with all A.V.aids and 2-way video conferencing.
Each Department of the college has individual Demonstration Room as an area of 45 Square meter & seat capacity of 60 each with equipped all the necessary audio-visual equipment.
The Examination hall is located on the 1st floor of the Academic Block and area covers 250 Square meter with a seating capacity of 250 students which is centrally air-conditioned.
Hostel
BSAMC has Library Complex consists of a two-storied centrally air-conditioned building situated in Block-A with floor area covers 1600 square meter.
The library has a good collection of Books as more than 3100, Reference books 300 and Number of Journals subscribed for Indian 28 and foreign 40.
Also, the library has 3nos of Reading Rooms with have a capacity 100 each.
Out of one at the ground floor, the 2nd on the first floor and the 3rd adjoining the library at ground floor which is open for 24-hour studies.
Moreover, Separate Reading lounge for staff with a capacity of 20 seats on the ground floor of the library.
Ambedkar Medical College has separate Hostel complex is located within the campus of a total of 124 rooms with twin sharing basis in the 2 hostel blocks as 100rooms and 24rooms respectively.
All the rooms are having adequate facilities and kitchenette attached and each hostel block has hall facilities with students seating capacity of 50 & 15, and in addition Visitors Room, Reading Room, TV Room and Indoor Games are available.
The Ambedkar Medical College Delhi Provides Indoor and Outdoor games facilities for the students which d includes the playfield of outdoor sports like Football, Hockey, Cricket and indoor facility for Badminton, Carrom board and Chess etc.
What Our Premium Customer Say About us?
"I have a lot of options in my mind but MBBSCouncil navigate me in the right path to get a college with my budget range with the proper guidance & suggestions. We are fully satisfied, now my son studying 2nd-year MBBS in Vadodara medical college. Thanks for their wonderful services we give heartfelt wishes to MBBScouncil to do a lot more"
Mr. Aboosalih Rahmath - GMERS Vadodara
Affiliated Hospitals
Dr BSA Medical College and Hospital ( BSAMCH) is a multispecialty hospital with 540 bedded and fully functional tertiary care centres to provide health care facilities for residents of North and North West Delhi peoples.
The BSAMCH has super specialities like Neurosurgery, Nephrology, Pulmonology and Urology and addition advanced upgraded diagnostic centre are available to serve the patients.
Also, The hospital has Intensive care services as ICCU of 10beds, ICU of 09beds, SICU of 04beds and NICU of18 beds with fully equipped latest instruments.
Also, there is Major operation theatre 07 and minor OT 03 available; all are centrally air-conditioned with equipped latest types of equipment.
Urban Health Training Centres-Prashant Vihar at Distance of 3kms from the college.
Primary Health Centres I Madanpur Dabas at Distance of 12kms from the college.
Primary Health Centres II Rani Khera at Distance of 14kms from the college.
Primary Health Centres III Kirari at Distance of 13kms from the college.
How to Reach
The Medical College is situated 20kms from the city centre and gets frequent bus service and there is Metro station called Rohini west by a walkable distance of 200 meter from college and has a frequency from NewDelhi is every 3min.
NewDelhi Railway station is well connected with all major cities in India as a distance from the college is 16kms.
The International airport of IGI Airport has a travelling duration of an hour at 28kms distance from the college.

Worth Exploring
1.
Which Medical Colleges you should avoid during Choice Filling >>
2.
How To Rank Medical Colleges Quality For Choice Filling >>
3.
How to Predict Your College Accurately For Your Rank >>