Find Parippally Medical College, Kollam, Kerala Cut off, College / Course Ranking, Tuition Fees, Courses, Admission Procedures, Infrastructure, Hostel Facilities, Hospital Details which will help you to decide the choice selection during NEET Admission Counselling For MBBS Courses.
Table of Contents
1. Quick Summary
2. MBBS Course
2.1. Seats
2.2. Tuition Fees
2.3. Cut off 2021
2.4. Ranking
2.5. Bond Details and Stipend
2.6. Admission Additional Details
3. Parippally Medical College Fees Structure
4. Infrastructure
5. Hostel
6. Affiliated Hospitals
7. How to Reach
Quick Summary
| | |
| --- | --- |
| Established | 2017 |
| Institution Type | Government |
| Affiliated University | Kerala University of Health Sciences, Thrissur |
| Total Beds | 314 |
| Average Patients | Install MBBSCouncil App |
| Post Graduate Courses | – |
| Super Speciality Courses | – |
| Other Names | GMC Kollam, GMC Parippally, Kollam Medical College, KMC Parippally, Government Medical college Kollam, ESIC Medical College Parippally, ESIC College Kollam |
| Address | GMC,Medical College Road, Parippally, Kollam,Kerala 691574 |
| Official Website | http://www.gmckollam.edu.in/ |
| Contact | 0474 – 2572574 |
| Mobile | – |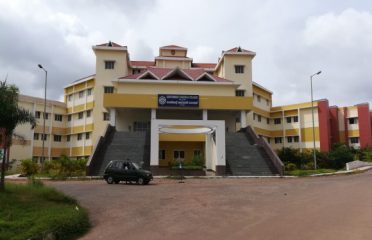 Government Medical College, Kollam, formerly ESIC Medical College, Parippally, is the first government medical college in Kollam District, Kerala State.
In 2013 the college was initially established by Employees State Insurance Corporation.
Want To Know Which Medical College You Have Chance To Get?
MBBS Course
Admission to is based on the score obtained in National Eligibility cum Entrance Test(NEET-UG) conducted by National Testing Agency(NTA). Duration of MBBS course is 4.5 years + one year compulsory rotating medical internship.
KMC Parippally Seats
KMC Parippally Total MBBS Seats Is Given Below.
Parippally Medical College Tuition Fees
Parippally Medical College MBBS Tuition fees for various quota is given below. Apart from tuition fees, you need to pay various other fees during admission.
| | |
| --- | --- |
| Government Fees | ₹ 27580 /Year |
Kerala MBBS Admission Counselling Process
You need to know KL medical college types, various quotas, Kerala domicile rules, KL state rank list, choice filling techniques, allotment and up-gradation rules, and much more... in order to avoid mistake during NEET counselling.
1.
Get Complete MBBS Admission Guide >>
2.
Read Last Year Schedule of Kerala Counselling Events >>
3.
Get Kerala MBBS Counselling Guide >>

Parippally Medical College Cut off 2021
Knowing Last Year Parippally Medical College score cutoff for round 1 Counselling will help you to predict your possibility to get this medical college.
Institute of National Importance Quota Seats (OPQ) NEET 2021 Score Cutoff
Install MBBSCouncil App to know All India Rank cut off for all medical college in all rounds of counselling.
Get Free NEET Counselling Reminders/Tips
Get every important NEET Counselling notifications from all counselling authorities, so that you never miss any deadline. Subscribe Now >>
All India Quota Seats (AIQ) NEET 2021 Score Cutoff
Install MBBSCouncil App to know All India Rank cut off for all medical college in all rounds of MCC NEET counselling.
Our Users Who Got Allotted in this College
LEKHA PRESHANTHNI N M
AIR 20094
OPQ GN-ESI
KARTHIKA G NAIR
AIR 222578
OPQ SC-ESI
During NEET 2021 counselling, 2 candidates got allotment in GMC Kollam.
Kerala State Quota Seats (SQ) NEET 2021 Score Cutoff
Install MBBSCouncil App to know Kerala Rank cut off and Kerala category rank cut off for all medical colleges in all rounds of Kerala state NEET counselling. Wondering what above category abbrevation means, check all Kerala reservation categories.
How To Avoid NEET Counselling Mistake?
Knowing Education Quality and Clinical Exposure of every medical college you want to put in your choice list will help you avoid any counselling mistake. Install MBBSCouncil App to know beds, patient flow, PG courses for all Indian medical colleges.
Parippally Medical College Ranking
College Ranking is based on How Parents and Students Preferred Parippally Medical College during NEET UG 2021 MCC and state counselling.
| | |
| --- | --- |
| Quota Type | Ranking |
| All India Ranking | 121 |
| Kerala State Ranking | 8 |
Bond Details and Stipend
After MBBS course completion in , candidates are obliged to complete compulsory rural service. If candidates skip service, they need to pay service bond penalty to proceed for medical council registration / post graduate studies. Details of Service Years and Penalty is given below. During the study, interns are entitled to get monthly stipend.
| | |
| --- | --- |
| Total Years | 1 |
| Penalty | ₹ 1000000 |
| Stipend | ₹ 25000 /month |
Looking for some other medical college ?. See list of all medical colleges in Kerala.
Parippally Medical College Admission Additional Details
Find Parippally Medical College additional details regarding MBBS course given by medical college to Medical Counselling committee.
| | |
| --- | --- |
| Male Hostel | Yes |
| Female Hostel | Yes |
| Other Info | All candidates seeking admission to ESIC Medical education institution will have to execute a bond to serve any ESIC ESI scheme ESIC institution run by the State Governments |
| Name of the Dean | Dr Abdul Rasheed M H |
| Name of the Nodal Officer | Dr Laila Raji N |
| Designation | Professor |
| Office Address | Vice Principal Government Medical College Kollam |
| Phone | 0474-2572572 |
| Email | academicgmcklm[at]gmail.com |
| Mobile | 9497815154 |
Share your experience to help medical aspirants
Parippally Medical College Fees Structure
……….
Infrastructure
The Central Library is built on 1600 square meter.
It provides students with Inside and Outside reading rooms, each with a capacity for 75 students and a reading room for staff of up to 20 persons.
The GMCK Library has a large collection of reference material including 2549 books with 42 Indian journals and 20 foreign journals, for student's reference.
In addition, several electronic magazines and IP-based subscribers subscribe to the Internet with 20 computers.
Kollam Medical College provides 5 Lecture Theatres that are divided into 4 for Medical College and one for the hospital.
Out of these, LC I, LC II, LC III, LC IV having the seating capacity for 120 students and another LC IV having the seating capacity for 240 students.
All these Lecture theaters are fully equipped with audiovisual aids such as microphone, LCD projector and overhead projector.
There is 2 Examination Halls available with a capacity of 120 each.
The room is equipped with air conditioning and CCTV.
The hall is built within the area of 250 square meters.
Hostel
The GMC Kollam hostel is available to all students within the campus.
It also has common rooms for entertainment, reading and Television.
Providing 24-hour security for all hostels.
The GMCK hostel offers such facilities like good water, sanitation, air conditioning visitor room and study room.
There are 79 rooms with 237 boys, 79 rooms with 237 girls, 103 rooms with 206 residents and 79 rooms with 237 Nurses.
GMCK campus also has residential quarters for Teaching and Non teaching staff each of these having capacity of 116 and 48 persons.
Common rooms are available for both boys and girls with a capacity of 100 students each.
It was built up with 100 square meter of area.
Kollam medical college has an entertainment room with television, music, indoor games and outdoor games.
The campus has separate playgrounds for football, basketball and volleyball.
Indoor sports facilities such as chess, carrom and table tennis are available at the hostel.
What Our Premium Customer Say About us?
"I have considered Tamilnadu and Karnataka Medical College. But little confused about the counseling in both states. Need the feasibility admission procedure to be followed so I took the MBBSCouncil App. The counselor guided all processes for both states, and the needed documents also. The MBBSCouncil team is a professional guide. I am very thankful the team to get my daughter's admission."
Mr. Rajkumar - St. Johns Medical College
Affiliated Hospitals
There are 300 teaching beds at Kollam District Hospital in Kerala.
The total bed occupancy of Kollam hospital is 71.33%.
The General surgery Department with 50 beds, Orthopedics with 20 beds, ENT with 5 beds, Opthal with 3 beds and so on.
The labor room occupies 40 beds.
The pre-anesthetic / preoperative cases occupy 6 beds and the post-operative recovery rooms occupy 10 beds.
There are 26 beds for intensive care.
Rural Health Training Centers Kalakkod located 10 kms from the college.
Urban Health Training Centers Chathannoor located 5 kms from the college.
How to Reach
The Paravur City Bus Stand is the closest to the Medical College, 10 kms away and 20 min drive, while the second Kollam KSRTC Bus Station is 27 kms away from the college with 45min drive.
The college is located 24 kms from the railway junction and is 55 minutes drive away and the closest to the college is Paravur train station 10 kms away and 20 min journey.
The closest college airport is Trivandrum International Airport, which is about 47 kilometers away from the college and is the first non-metro international airport in India to travel 1:30 hours.

Worth Exploring
1.
Which Medical Colleges you should avoid during Choice Filling >>
2.
How To Rank Medical Colleges Quality For Choice Filling >>
3.
How to Predict Your College Accurately For Your Rank >>