Find Panimalar Medical College, Chennai, TN – NEET- MBBS Cutoff, College / Course Ranking, Tuition Fees, Courses, Admission Procedures, Infrastructure, Hostel Facilities, Hospital Details which will help you to decide the choice selection during the time of MBBS Admission Counselling.
Introduction
aisakthi Educational Trust started the Panimalar Hospital & Research Institute (PHRI) in the year 2017 in Chennai but the medical college came in 2020 only for granting undergraduate medical admissions. The aim of the Jaisakthi Educational Trust is to provide quality education in the field of engineering, medical, nursing and other health professional courses to aspiring students. Panimalar medical college teaches discipline is important to succeed in life along with developing an overall personality of the students with professional standards.
Table of Contents
1. Quick Summary
2. MBBS Course
2.1. Seats and Tuition Fees
2.2. NEET 2021 Cutoff
2.3. College Ranking
2.4. Bond Details and Stipend
3. Infrastructure
4. Facilities
5. Affiliated Hospitals
6. How to Reach
Quick Summary
| | |
| --- | --- |
| Established | 2020 |
| Institution Type | Private |
| Affiliated University | The Tamilnadu Dr. MGR Medical University,Chennai |
| Total Beds | 330 |
| Post Graduate Courses | – |
| Super Speciality Courses | – |
| Details | Christian Minority: |
| Other Names | Panimalar Medical College, Panimalar Medical College Hospital & Research Institute Chennai |
| Address | Panimalar Medical College Hospital & Research Institute, Varadharapuram, Poonamallee,Chennai-6000123, India. |
| Website | https://www.pmchri.ac.in/ |
| Contact | 044 6161 6161 |
| Mobile | 9840117929 |

Know More About Counselling Tools >>
Which Medical College You Have Chance To Get?
Every candidate wants to know the type of college and quota they have chance to get for their NEET score/rank. This will help them decide the probable fees structure range.
Do you know NEET Admission counselling tool used by 1 lakh+ NEET UG/PG candidates to predict and pick best medical college in counselling within their budget? Read More >>
MBBS Course
Admission to Panimalar Medical College is based on the score obtained in National Eligibility cum Entrance Test(NEET-UG) conducted by National Testing Agency(NTA).
MBBS Seats and Tuition Fees
Panimalar Medical College MBBS Seats and tuition fees for various quota is given below. Apart from tuition fees, you need to pay various other fees during admission.
| Seats | Government Fees | Management Fees | NRI Fees |
| --- | --- | --- | --- |
| 150 | ₹ 400000 | ₹ 1250000 | ₹ 2350000 |
Tamil Nadu MBBS Admission Counselling Process
You need to know medical college types, quota, tuition fees, hidden fees, Tamil Nadu state reservation, domicile rules, Tamil Nadu state rank list, choice filling, allotment rules, up-gradation rules, service bond, penalty, stipend, last year closing cutoff, in order to avoid making any mistake during counselling.
If any of the above sounds unfamiliar to you, you can start learning with NEET Counselling Beginner's E-Book and proceed to further steps mentioned below.
1.
Get Beginner's Guide >>
2.
Get Complete List of Medical Colleges In Tamil Nadu >>
3.
Learn Tamilnadu Medical College Quota and Reservation >>
4.
Understand Category wise Tamil Nadu NEET Competition and Performance >>
5.
Know Category Wise Last Year Tamil Nadu Govt Quota NEET Closing Score/Rank >>
6.
Read Last Year Schedule of Tamil Nadu Counselling Events >>
7.
Get Tamil Nadu MBBS Counselling Guide >>
How Prepared Are You For NEET Counselling?
While it is important for the student to prepare for NEET Examination, it is very much important for parents to learn about All India and Tamil Nadu State NEET counselling. It will help parents and doctors to avoid any mistake and get best medical college within the budget for their NEET score.
Do you know close to 30% of MBBS candidates end up earning less than Rs 10000/month as their salary?
You can check your preparation level for NEET 2022 counselling by taking 5 minute test by installing MBBSCouncil App
MBBS NEET 2021 Cutoff
Knowing Last Year Panimalar Medical College closing score for round 1 Counselling will help you to predict your possibility to get this medical college. Install MBBSCouncil App to know All India Closing Rank for all rounds of counselling.
Tamil Nadu State Quota Seats (SQ) Closing NEET 2021 Score Cutoff
| Category | Score |
| --- | --- |
| OC | 534 |
| BC | 530 |
| BCM | 505 |
| MBC | 497 |
| SC | 414 |
| MBC-GS | 259 |
| BC-GS | 255 |
| SC-GS | 214 |
Management Quota Seats (MQ) Closing NEET 2021 Score Cutoff
Non – Resident Indian Seats (NRI) Closing NEET 2021 Score Cutoff
Install MBBSCouncil App to see Non – Resident Indian Seats (NRI) quota cutoff for all rounds.
If you could not understand above category abbreviations, to know complete list of your state's quota and reservation categories, click here >>
How to Predict Your Chance With High Accuracy?
Knowing closing state rank and community rank cut off will increase your prediction accuracy to get seat under state quota in government medical colleges and private medical colleges. Read More on How To Predicting Your College Accurately>>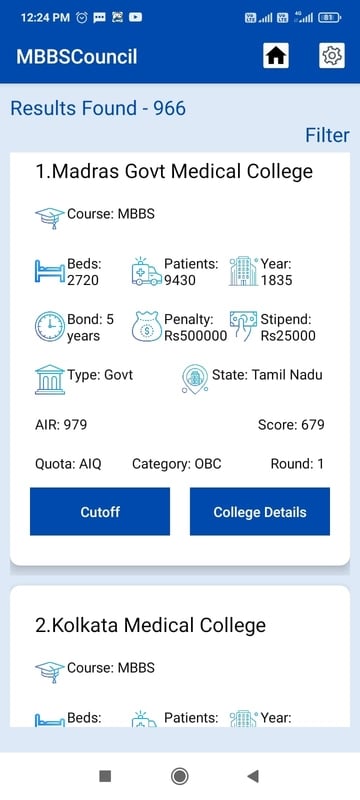 MBBS College Ranking
College Ranking is based on How Parents and Students Preferred Panimalar Medical College during NEET UG 2021 MCC and state counselling.
| | |
| --- | --- |
| NRI Rank | 97 |
| State Rank | 44 |
MBBS Bond Details and Stipend
After MBBS course completion in Panimalar Medical College, candidates are obliged to complete compulsory rural service. If candidates skip service, they need to pay penalty to proceed for medical council registration / post graduate studies. Details of Service Years and Penalty is given below. During the study, interns are entitled to get monthly stipend.
| | |
| --- | --- |
| Total Years | No Data Available |
| Penalty | No Data Available |
| Stipend | No Data Available |
NEET Counselling Guidance
MBBSCouncil Android App - The only App you need for NEET UG/PG/SS counselling which contains everything you need to know to get best medical college for your NEET Rank.
Infrastructure
Campus Area
The Panimalar medical college ensures the students turn brilliant academically and empowered as an individual. PMCHRI owns 43 acres of sprawling campus and strives to provide a holistic education that makes no compromise in commitment and discipline. The Panimalar MC is well-equipped with the state of the art infrastructure with a built-up area of 79,088 Sq.mt, technology-enabled with smart classrooms, advanced research laboratories focusing on teaching clinical practice and medicinal research. It has various divisions like a library, museum, seminar halls, demonstration halls, dissection halls, research laboratories all of them are equipped with excellent teaching materials.
The Panimalar college museum has a good number of articulated skeletons, wet specimens, models, charts, view boxes for students' reference. The central laboratory of Panimalar medical college hospital & research institute is located on the 1st floor of the medical block. An air-conditioned laboratory is situated with an area of 580 sq.ft it diagnoses 2,000 tests approximately per day. The research specimens are processed by qualified technicians and reported by authorized staff.
Library
PMCHRI has an independent library building which is named as "Knowledge Centre". The library provides accurate information material to the users for learning, teaching and research with a collection of 37,130 books, 8,463 journal volumes, 24,188 e-books, 6,657 e-journals, 825 cd-rom's, audio-visual aids, thesis & dissertations, 639 WHO publications. The 4 storied building consists of a central library having separate sections of reading halls, e-library along with 2 spacious ultra-modern conference halls available for both staff & students.
Facilities
Hostel
Hostel facilities are available for both boys & girls students separately on the college campus. Also, separate quarters are available for staff too. The hostel campus is surrounded by a green and eco-friendly atmosphere that stimulates the mind to learn positively. Also, it provides a pleasant environment which helps a healthy interaction among the students. The PMCH hostel rooms are furnished with cupboards, study tables, single bed cots, etc.
Food & Mess
Mess facilities are available for hostel students. An effort has been put together to provide a congenial ambience to the students and staff in a friendly manner. Many students have experienced the homely atmosphere provided by the Panimalar campus, a mess/canteen facility is one among them. Marble seated, pest-free and well-ventilated canteen serving highly nutritious vegetarian and non-vegetarian foods to the students in a very hygienic manner. In the Panimalar canteen breakfast, lunch, dinner is served unlimitedly.
Sports
All types of indoor & outdoor sports facilities are available for the students. In the Panimalar medical college great importance has been given to sports and other extracurricular activities. Playing sports and games activities are helping the students to keep them strong and stay fit physically, mental, emotionally and intellectually. So, that playing sports and games students can get body & mind relaxation. PMCHRI campus offers the following sports & games activities such as kabaddi, cricket, volleyball, basketball, football, ball badminton, table tennis, chess, carrom, athletics, gymnasium and many more games.
Transport
Panimalar group of institutions offers 166 buses for students and staff transport. Transports are operated to connect the students and staff from any place in the city to the college campus and its nearby areas. Every one of the students can take the bus facility to be there in college on time. Also, buses are operated for any other occasions like special class, coaching class, training, industrial visit, social service camps and so on.
ATM
Panimalar medical college campus provides an ATM for the benefit of students and staff to withdraw cash in a convenient way.
Get Free NEET Counselling Reminders/Tips
Get every important NEET Counselling notifications from all counselling authorities to your mobile so that you never miss any deadline. Show Me How >>
Affiliated Hospitals
Panimalar hospital doctors have been identifying all health-related problems in a friendly manner through the proper diagnosis and giving proper medical treatment to cure the disease. Panimalar medical college, Chennai (PMCHRI-Chennai) has it's own reputed super speciality general hospital which is located in Poonamalle – Chennai outer area having 330 beds to provide clinical healthcare services.
These are the medical services are offered by the Panimalar hospital such as Anatomy, Physiology, Biochemistry, Pharmacology, Pathology, Microbiology, Forensic Medicine, Community Medicine, Transfusion Medicine, General Medicine, Paediatrics, Dermatology, Emergency Medicine, Psychiatry, General Surgery, Orthopaedics, Ophthalmology, Obstetrics & Gynecology, Anaesthesiology, Dentistry, Radiodiagnosis, Cardiology, Neurology, Neuro Surgery, Urology,  Oto-Rhino-Laryngology, Tuberculosis & Respiratory Diseases, Venereology & Leprosy,
Health Care Centres – Primary Health Centres and Rural/Urban Health Training Centres
PHC I (RHTC) – located 00 kms from the college.

PHC II (UHTC) – located 00 kms from the college.
How to Reach
The Panimalar medical college is located in Varardharajapuram near Poonamallee in Chennai. Panimalar MC is connected by the roadways of Chennai, Thiruvallur and Kancheepuram districts. PMCHRI, Chennai has located 3.2 kilometres away from the Poonamallee Mofussil bus stand and it takes about 9-10 minutes to reach this medical college.
Panimalar medical college, Chennai has located 20 kilometres away from the Koyambedu central bus terminus and it takes 41 minutes to reach this destination. Panimalar medical college, Chennai is located 14.1 kilometres away from the Avadi railway station and it takes about 24 minutes to reach this medical college. Panimalar, Chennai has located 20.9 kilometres away from the Chennai International Airport. We can reach this college in 50 minutes.
Worth Exploring
1.
Which Medical Colleges you should avoid during Choice Filling >>
2.
How To Rank Medical Colleges Quality For Choice Filling >>
3.
How to Predict Your College Accurately For Your Rank >>
4.
NEET Admission Counselling Tips >>

Filter Medical Colleges Within Your Budget >>