Find SUT Medical College, Thiruvananthapuram, Kerala Cut off, College / Course Ranking, Tuition Fees, Courses, Admission Procedures, Infrastructure, Hostel Facilities, Hospital Details which will help you to decide the choice selection during NEET Admission Counselling For MBBS Courses.
Table of Contents
1. Quick Summary
2. MBBS Course
2.1. Seats
2.2. Tuition Fees
2.3. Cut off 2021
2.4. Ranking
2.5. Bond Details and Stipend
3. SUT Medical College Fees Structure
4. Infrastructure
5. Hostel
6. Affiliated Hospitals
7. How to Reach
Quick Summary
| | |
| --- | --- |
| Established | 2006 |
| Institution Type | Private |
| Affiliated University | Kerala University of Health Sciences, Thrissur |
| Total Beds | 470 |
| Average Patients | Install MBBSCouncil App |
| Post Graduate Courses | – |
| Super Speciality Courses | – |
| Other Names | SUT Vattappara, SUTAMS |
| Address | SUTAMS,Vencode, Trivandrum District, Vattappara, Kerala 695028 |
| Official Website | https://sutams.edu.in/ |
| Contact | 0472-2587575 |
| Mobile | – |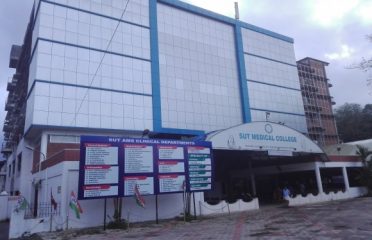 Sri Uthradom Thirunal Hospital was inaugurated in the year 1987 by the Chief Minister of Kerala, at a time when tertiary care facilities were scarce in this part of the country.
Sri Uthradom Thirunal(SUT) Academy of Medical Science was established in 2006, situated on 30 acres of beautiful landscaped grounds and aims to provide quality professional medical education to every student who joins the institute.
Want To Know Which Medical College You Have Chance To Get?
MBBS Course
Admission to is based on the score obtained in National Eligibility cum Entrance Test(NEET-UG) conducted by National Testing Agency(NTA). Duration of MBBS course is 4.5 years + one year compulsory rotating medical internship.
SUTAMS Seats
SUTAMS Total MBBS Seats Is Given Below.
SUT Medical College Tuition Fees
SUT Medical College MBBS Tuition fees for various quota is given below. Apart from tuition fees, you need to pay various other fees during admission.
| | |
| --- | --- |
| Management Fees | ₹ 661168 /Year |
| NRI Fees | ₹ 2000000 /Year |
Kerala MBBS Admission Counselling Process
You need to know KL medical college types, various quotas, Kerala domicile rules, KL state rank list, choice filling techniques, allotment and up-gradation rules, and much more... in order to avoid mistake during NEET counselling.
1.
Get Complete MBBS Admission Guide >>
2.
Read Last Year Schedule of Kerala Counselling Events >>
3.
Get Kerala MBBS Counselling Guide >>

SUT Medical College Cut off 2021
Knowing Last Year SUT Medical College score cutoff for round 1 Counselling will help you to predict your possibility to get this medical college.
Management Quota Seats (MQ) NEET 2021 Score Cutoff
Install MBBSCouncil App to know All India Rank cut off for all medical college in all rounds of counselling.
Get Free NEET Counselling Reminders/Tips
Get every important NEET Counselling notifications from all counselling authorities, so that you never miss any deadline. Subscribe Now >>
Open Quota Seats (OPN) NEET 2021 Score Cutoff
Install MBBSCouncil App to see Open Quota Seats (OPN) quota cutoff for all rounds.
Non – Resident Indian Seats (NRI) NEET 2021 Score Cutoff
Install MBBSCouncil App to see Non – Resident Indian Seats (NRI) quota cutoff for all rounds.
SUT Medical College Ranking
College Ranking is based on How Parents and Students Preferred SUT Medical College during NEET UG 2021 MCC and state counselling.
| | |
| --- | --- |
| Quota Type | Ranking |
| Open Management Ranking | 6 |
| NRI Ranking | 26 |
| Kerala State Management Ranking | 11 |
Bond Details and Stipend
After MBBS course completion in , candidates are obliged to complete compulsory rural service. If candidates skip service, they need to pay service bond penalty to proceed for medical council registration / post graduate studies. Details of Service Years and Penalty is given below. During the study, interns are entitled to get monthly stipend.
| | |
| --- | --- |
| Total Years | 0 |
| Penalty | ₹ 0 |
| Stipend | No Data Available |
Looking for some other medical college ?. See list of all medical colleges in Kerala.
Share your experience to help medical aspirants
SUT Medical College Fees Structure
| Course Type | Fees Type | Description | Fees |
| --- | --- | --- | --- |
| UG | OneTime | Caution Deposit (refundable) | 10000 |
| UG | Yearly | Hostel Fee | 114200 |
| UG | Yearly | Special Fee | 66360 |
Infrastructure
SUT Academy of Medical Sciences has the Central Library with total area of 1600 square meter.
It provides inside and outside reading room for students with 100 seating capacity, staff reading room with 20 persons seating capacity.
SUTAMS Library has a large collection of Reference Materials, 79 Journals includes 44 indian journals and 35 Foreign journals, 7149 Books and Magazines for reference.
Moreover, various E-Journals and IP based are also subscribed from the Internet Room with 7 Computers.
SUTAMS provides 3 Lecture Theaters for Medical College and one for Hospital.
Medical College hall having seating Capacity for 120 students and Hospital hall having seating capacity for 100 students.
All of these Lecture Theaters are fully well equipped with audio-visual aids like microphone, LCD projector, and overhead projector.
Sree Uthradom College has 3 Examination Halls.
This hall is fully Air conditioned with a seating capacity for 250 students and well equipped with CCTV and Mobile jammers.
It occupied the area of 250 square meter.
Hostel
SUT Medical College hostel campus has separate buildings for Men and Women.
A total of 270 boys can be accommodated in the Boys Hostel building.
There are 3 separate hostel buildings for women.
The SUT Medical College hostel has 160 rooms for UG students, 60 residents including PG and 40 rooms for nurses.
A total of 466 women can stay in this hostel.
Common rooms are available in the hostel for boys and girls that having the area of 50 square meter each.
SUTAMC has a recreation room with television, music, indoor and outdoor games.
There are separate playgrounds for football, basketball and volleyball on campus.
Indoor sports facilities like Carrom, Chess and Table Tennis are available at the hostel.
The gymnasium is available in the hostel for students of both.
What Our Premium Customer Say About us?
"My friend suggested MBBSCouncil App. I have taken the app and gotten the guidance. The team forwards information on lot of medical college information in Tamil Nadu and other states also. I have applied to Karnataka, and Punjab also. Finally, got allotted from CMC Ludhiana. Thanks for your guidance."
Ms . Tirzah Sharon - Christian Medical College Ludhiana
Affiliated Hospitals
SUT hospital central casualty services with 16 beds, Pediatric ward with 60 beds, Coronary care with 12 beds.
General ward occupied 120 beds and Labour room occupied 10 beds.
Pre Aneasthetic/Pre Operative cases occupies 2 beds and the Post operative recovery rooms occupies 4 beds.
There are 17 beds available in Intensive care.
SUT Hospital has departments like General Medicine, Pediatrics, Psychiatry, Orthopedics, Obstetrics and Gynecology, Anesthesiology, ENT and Dermatology.
Some medical laboratories such as biochemistry, microbiology, serology, hematology, histopathology, and cytopathology are available in the hospital.
Rural Health Training Centers Kanyakulangara located 9 km from the college.
Urban Health Training Centers Vattapara located 5 km from the college
How to Reach
This college is just 13 kms from the city center and has frequent local transport available around a clock and can reach the college within 30min.
The Thiruvananthapuram Central Railway Station, is a major Indian railway station which is well connected with all the states, located 16kms from the college with travel time of 30min.
Thiruvananthapuram has a International Airport with Domestic and International Terminals, situated at a distance of 20Kms with travel time of 45min.

Worth Exploring
1.
Which Medical Colleges you should avoid during Choice Filling >>
2.
How To Rank Medical Colleges Quality For Choice Filling >>
3.
How to Predict Your College Accurately For Your Rank >>