MBBS In Philippines is getting popular among Indian students. More than 3000 Indians study Medicine in Philippines Medical Colleges. Find out why thousands of Indians prefer Philippines over other countries.
Introduction – MBBS In Philippines
More than 10000 foreign students come to Philippines to study MBBS In Philippines. In the recent past, the percentage of Indian students has steadily increased in Philippines Medical Universities because of high pass percentage in MCI Screening Test/FMGE. Nearly all medical colleges in Philippines follow American Standard Medical Education which makes it easy for students to prepare for USMLE as well as Foreign Medical Graduates Exam(FMGE).
The Philippines is an archipelago country of Southeast Asia in the western Pacific. The country covers 7,641 islands those are categorised under three geographical divisions from north and south which are Luzon, Visayas, Mindanao. Filipino and English are the official languages. The total area of the country is 3 lakhs square kilometers. Manila is the capital city of the Philippines. It has a 12th place in the population of the world which makes it as one of the most preferred destination to study .
Table of Contents
1. Quick Summary
2. Why Study MBBS in Philippines
3. MBBS Course in Philippines
4. Top MCI Listed Medical Colleges in Philippines
5. MBBS In Philippines Eligibility and Admission Process
6. Visa Processing
7. History of Philippines
8. Geography
9. Cost Of Living:
10.Climate
11.Food and Culture
12.How To Reach
Quick Summary
| | |
| --- | --- |
| Total Indian Students | 3000+ |
| Tuition Fees Range | Rs 3 Lakhs/year to Rs 6 Lakhs/year |
| Student Facilities | Hostel, Indian Food |
| MCI Approved Medical Colleges | 40 |
| FMGE Passing Rate | High |
| Cost of Living: | 15000 to 20000 INR (month) |
| Capital: | Manila |
| Language: | English |
| Area: | 300000 sq km |
| Population: | 10.20 crores |
| Currency: | Philippines Peso(PHP) |
| Timezone: | UTC+8 (PST) |
| Time Difference: | Philippines is 2 hours and 32 minutes ahead from India |
| Geography: | Southeast Asia |
| Borders With: | Taiwan, Vietnam, Palau, Malaysia, and Indonesia |
Why Study MBBS in Philippines
Philippines is the best destination for the Indian students, who want to study the medical course because of various reasons. Some of the important ones are highlighted below.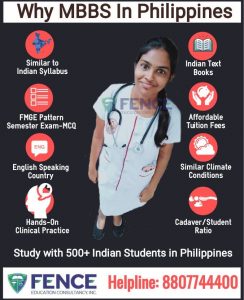 English is the official language of the Philippines. It makes it easy for students who study MBBS In Philippines to interact with patients during internship. Clinical rotation experience is the number one factor which decides the success in Medical License Exam because most of the MCQs in National Exit Test are based on clinical diagnosis based.
Medium of instruction/teaching in all Philippines Medical College is English. There is no need to learn additional language to complete the medical course like in China or Russia.
TOEFL or IELTS exam is not required to take Admission
Philippines Climatic seasons are same as Indian tropical climate, so disease spectrum is very much similar to that of India. While diagnosing patients, it is important that we get patients during clinical clerkship with diseases common to Indian climate.
Globally Recognised Medical Degree: Medical colleges (or) universities in the Philippines are recognized by the World Health Organisation and the Medical Council of India.
No Donation / Capitation Fees to study Medicine (MD) in Philippines. You can save nearly 70% of the tuition fees paid in private medical colleges in India by studying medicine in Philippines Medical Colleges.
Nearly 10000 students come from other countries to study MBBS in Philippines. Out of this, nearly 30% of the students were Indians. Few Colleges has very high south Indian students and few have mix of South as well as North Indian students.
Philippines is known for its quality of education in various streams. It has 2,180 higher education institutions, which consists of 607 public and 1,573 private institutions.
The medical education of the Philippines is based on the US education system that gives numerous opportunities to work in developed countries like the US, UK, Canada, Australia, etc.
Popular Medical Colleges in Philippines for Indian Students
Based on the number of Indian students studying MBBS in Philippines following Philippines Medical Colleges are recommended for Indian Students.
1. University of Perpetual Help System DALTA
2. Davao Medical School Foundation
3. UV Gullas College of Medicine
4. Brokenshire College School of Medicine
MBBS Course in Philippines
The Philippines country provides the MBBS course with a duration of 5 and ½ years.
The first one and a half year, Indian medical students have to learn about pre-medicine course(that is called the Bachelor of Science program). Students learn basics under Psychology, Anatomy, Physiology and Biochemistry.
The Pre medicine course, is followed by M.D (Doctor of Medicine) course. The first three years of M.D course concentrates on Pre-Clinical, Para clinical, General Medicine, Surgery, Clinical, Specialised subjects such as Pediatrics, Obstetrics & Gynaceology, ENT, etc. The last one year of the medical course is dedicated for practical training in affiliated hospitals. This is called as clinical rotation.
NMAT Entrance Exam for Philippines
For Philippines Students as well as for Govt Philippines Medical Colleges, Doctor of Medicine (MD) admissions are solely based on the Philippines Medical Admission/Entrance Test called NMAT(National Medical Admission Test). This exam is similar to National Eligibility and Entrance Test(NEET) in India. For Filipinos, it is compulsory to get passing percentile for admission into medical courses.
Direct Lateral Admission to MBBS In Philippines
International students with Bachelors Degree can take direct admission to study MBBS In Philippines. This will reduce the course duration to 4 years, three years of basic and clinical medical science and 1 year of clerkship at affiliated Philippines hospitals. When your NEET score is not enough for govt college, you can join B.Sc course and try to improve your NEET score. If you could not get govt medical college in India, you can complete MD course in Philippines in just 4 years.
Medical Course Recognition:
World Health Organization (WHO)
Medical Council of India (MCI)
World Federation for Medical Education (WFME)
Foundation of Advancement of International Medical Education & Research (FAIMER)
MBBS In Philippines Syllabus
The B.S course has Basics of Psychology, Human Physiology with 1 and ½ years
The first year of medicine covers Anatomy, Physiology, Biochemistry, Histology, Neuroanatomy
The second year of medicine covers pathology, microbiology, pharmacology, parasitology, obstetrics, preventive medicine and community health, clinical pathology
The third year of the medicine course covers pediatrics, radiology, ophthalmology, otorhinolaryngology, legal medicine / medical jurisprudence, gynecology, clinicopathologic conference/special topics in pathology
The fourth year of medicine is a clinical internship, to practice with affiliated medical centers to the corresponding university.
Top MCI Approved Medical Colleges in Philippines
Following is the list of top MCI Approved Medical Colleges in Philippines according to World Ranking Web of Universities.
MBBS In Philippines Eligibility and Admission Process
The students should have more than 50% of marks in 10+2 standard with physics, chemistry, and biology or equivalent higher education. If student belong to OBC/SC/ST reservation category, then 40% marks is sufficient.
NEET Qualifying Score Cut off in the last three years. For NEET 2020, the qualifying cut off is 147 for Unreserved category and 113 for OBC/SC/ST reservation categories.
Admission Procedure for MBBS In Philippines
Step 1 : Fill the College Admission Application form.
Step 2 : Submit soft copies of Your Passport, HSC Mark Sheet to apply for Letter of Permission for Admission
Step 3 : Receive the admission invitation letter from the medical university
Step 4 : After admission confirmation, apply for the Philippines Visa along with all necessary documents.
Step 5 : Appear for Personal Visa Interview at Philippines Embassy along with the invitation letter and other supporting documents for Visa Approval.
Step 6 : Travel to Philippines and join the medical college
If you want to know more information about the other Medical Colleges in Abroad, please download the MBBSCouncil Android App. You can download the app by clicking here. This app provides counselling guidance for MBBS Admission.
Philippines Visa Processing
The Philippines government gives student visa for the students, who complete the age of 18 years.
If the student is in 17 years, they can get a Special Study Permit(SSP). The validation of the SSP is 6 months.
Applicant has the general requirements to get the student visa of the Philippines, they need to have original passport with six month validity beyond the intended period of stay in the Philippines, original and one photocopy of mark statement, leaving certificate from the previous studying institution, birth certificate, affidavit of support executed by parents/legal guardian, transcript of records, certificate of good moral character, police clearance certificate, medical examination reports including X-ray film, psychological report, authenticated certificate from the Philippines institution, two photocopies, and fully filled-in application form.  All these documents are authenticated by the Philippines government before issuing the Philippines Student Visa.
Accommodation and Food in Philippines
Most of the Philippines medical colleges provide hostel facility for Indian students. Even-though it is not compulsory to stay in hostel, we recommend students to stay in the hostel because it provides safety and security. Some medical colleges has hostel facility inside their campus and some have close to their campus. The hostel facility will be under surveillance using CCTV cameras providing secure accommodation for girl students. Check whether has separate hostel facility for boys and girls while choosing the medical college.
Similarly most of the top medical colleges in Philippines provides Indian food, both vegetarian and non-vegetarian depending on their preference. University of Perpetual Help, Davao Medical School Foundation are known to provide Indian food to their Indian students. There are Indian restaurants/canteens available for students who study MBBS in Philippines, mainly in the capital region Manila for students to get different Indian flavor once in a while.
History of Philippines
The Philippines has abundant natural resources and it comprising multiple ethnicity and civilization. In the prehistoric period, most of the peoples are Negritos. The various competing maritime areas under the rule of datus, rajas, sultans, and lakans. In the 16th century, the Philippines is a colonial country of Spain. They got independence on 12 June 1898.
Geography
The Philippines is located in Southeast Asia, the archipelago is bounded by the Celebes Sea to the south, the Philippine Sea to the east, and the South China Sea to the west and north. The shape of the country is a triangle, it is placed in a pacific ring of fire, close to the equator. The coastal area of the country extended to 36,289 km, agricultural land of the country is more than 32% of the total land area. The highest point is Mount Apo and the lowest point is Galathea Depth. Agusan river is the longest river in the country.
Cost of Living for MBBS Students in Philippines
Cost of living is very low in the Philippines compare to other foreign countries. The Philippines living cost is 40% higher than India, but price of most of the necessary things are approximately similar to India. The Restaurant and market prices are 1.75% higher than in India. Many Indian students who study MBBS In Philippines say that Transportation charges are very low compared to India. The electronics things charges are 3 times more than India. Cloth and shoes prices are relatively the same as India.
Philippines Climate
The climate of the Philippines is tropical and maritime which is characterized by high temperature, repressive humidity, and plentiful rainfall. There are two seasons in the country, one is a wet season and another one is the dry season based on the rainfall. The rainy season is June to November, the dry season is December to May. January is the coolest month and May is the warmest in the Philippines country. Baguio City receives the greatest rainfall, the annual mean temperature is very low compared to other places. So Baguio is the summer capital of the Philippines. The climate being very similar to that of Indian climate helps Indian students to learn about diseases which are similar to that of India. Top MCI Approved Medical Colleges in Philippines conduct their semester exams in MCQ pattern like that of MCI screening test conducted by National Board of Examination(NBE). This is one of the main reason of high passing percentage of Philippines Medical Foreign Graduates compared to Russia or china.
Food and Culture
The Philippines food has a fusion of Asian and European. Rice is the staple food in the Philippines. It is mostly steamed with vegetable, meat, and fish dishes. The meat includes chicken, pork, beef, and fish. Seafood is very popular in this country. The mountain of Batangas has produced a variety of coffee with a strong flavour. A traditional Filipino breakfast is pandesal (small bread roll) making with rice flour. The Philippines is one of the democratic country. Christian is a major religion in this country. The festivals of the Philippines is called "fiestas". The most famous fiestas are Hinugyaw, Ati-Atihan, Sinulog, Panagbenga, MassKara, Pintados-Kasadyaan, and Hermosa etc.,
How To Reach
The Philippines has connected to all other countries in the world with airways. This country has 13 international airports which are connected with other countries. Ninoy Aquino International Airport and Mactan-Cebu International Airport are the busiest airports in the Philippines. National transporters include Philippine Airlines, Air Asia, Cebu Pacific, Skyjet, SilkAir, Malaysian Airlines, and PAL Express. From India, there are flights to  Philippines through Malaysia, Singapore, and Bangkok.
MBBS In Philippines Review Testimonials
I am Manasa, currently studying medicine in University of perpetual Help System DALTA. During the corona lockdown, I stayed in Philippines so that I can complete the medical course on time. We are not allowed to go oustide the hostel premises located inside the medical college. Our safety and security was ensured by the Matrons and Patrons who stay in every floor of the hostel building. We do not have any issues in getting Indian food as college mess provides Indian food. UPHSD conducts online classes to ensure the completion of the course on time. I am happy that I choose to study MBBS In Philippines.  – Sri Vidhya Mandir Hr.Sec.School, Krishnagiri – Tamilnadu
After Completing MBBS from Philippines
Even-though few Indian students clear USMLE exams to get into United States of America, most  of the students who study MBBS In Philippines, come back to India and clear the FMGE exam/MCI screening test.
After successfully passing the FMGE/NEXT0 exam, student need to get temporary license from National Medical Council of State Medical Council to start the practice. With this temporary license, they can do internship in Indian government or private medical hospitals. After completing the internship, they need to again apply for the permanent license from their respective medical council.
After getting permanent license, they can either start practice or appear for the PG entrance Exam to join post graduation courses in India.