Find Kerala State Quota NEET counselling information such as Counselling Procedure, Cut off, Seat Matrix, Tuition Fees, Eligibility, etc here.
MBBS Admission Counselling for Kerala State Quota is conducted by Commissioner for Entrance Examinations, Thiruvanthapuram which comes under Government of Kerala. 85% of MBBS seats in all government colleges located in the state of Kerala are allotted to students who are native to the state. Apart from government colleges, management quota seats as well as NRI Quota seats in private medical colleges are allotted by CEE, Kerala.
Table of Contents
1. Quick Summary
2. Counselling Procedure
3. Counselling Registration
4. Centralized Allotment Process
5. Eligibility – State Counselling
6. Domicile Rules
7. Seat Reservation
8. Seat Matrix
9. Required Documents
10. NEET Cut off
Quick Summary
Mode of Counselling
Online
Conducting Authority
Commissioner for Entrance Examinations, Kerala
Total Medical College Participating
10 Govt Colleges, 20 Self-Financing Colleges
Total MBBS Seats Govt
1555
Total MBBS Seats Private
2550
Tuition Fees
Govt Quota – Rs 27,580/Year,
Mgmt Quota – Rs 7,65,000 to 20,70,000/Year ,
NRI – USD 46,000/Year
Registration Date
IInd Week of February
Registration Fees
Rs 500 (For SC – Rs 200 and for ST category – Free)
Registration Website
www.cee.kerala.gov.in
Phone Helpline
0471-2525300,  0471-2335523 (24 hours)
Email Helpline
ceekinfo.cee@kerala.gov.in
Get Free NEET Counselling Reminders/Tips
Get every important NEET Counselling notifications from all counselling authorities to your mobile so that you never miss any deadline. Show Me How >>
Kerala State Counselling Procedure
Kerala State Quota Counselling conducted by Commissioner for Entrance Examinations-Kerala includes MBBS Seats in government and private medical colleges located in the state of Kerala. 15% MBBS Management Quota Seats in self-financing college are open for students from any state of India.
For Private Medical Colleges which are affiliated to Deemed University such as Amrita Institute of Medical Science – Kochi, the counselling is conducted by Medical Counselling Committee.
Kerala State Counselling Registration
There are 5 steps in online MBBS Admission application submission. Candidates should complete all the five steps before the registration end date which generally falls in the last week of February. Kerala is the only state in India which starts registration for counselling much before the NEET Exam is conducted. So you need to visit Kerala counselling website regularly if you are interested to apply for Open Management quota in private medical colleges from some other state.
Step 1 : Candidate Registration: Enter your email and mobile number to generate application number. You will be allowed to set password for further login.
Step 2 : Fill Application Form: Read prospectus and fill all the mandatory fields in the online application. Use 'Save and Preview' button to verify your details before you finalize submission.
Step 3 : Pay Application Fees: Payment of application fee either by Online Payment through Net-banking/Credit Card/Debit Card or by way of e-chalan.
Step 4 : Upload Images and Scanned Certificates: A recent passport size photograph along with Signature of the candidate, in jpeg format (according to given specifications) need to be uploaded.
Step 5 : Print Confirmation Page: Candidate should take confirmation page printout for future references.
Counselling Process –  Centralised Allotment Process(CAP)
Merit Rank List : Rank list for MBBS/BDS will be prepared on the basis of rank obtained in NEET-UG examination by all the applicants. CEE releases state rank as well as community Ranks for all students who applied for the MBBS admission counselling.  Candidates should verify whether they appear in the respective merit list for their reservation category published by the Commissioner for Entrance Examinations. If there is any discrepancy, complaint should be sent within the time period specified during the rank list publication. CEE will publish revised rank list after considering all complaints filed by the students.
The CAP allows students to select college and course choices based on their preference. If you do not have computer and internet access, you can approach the facilitation centers to select your college preference. The allotments are strictly based on the selected options, state/community rank obtained and availability of seats. So students are advised to enter as many options as possible. If students is allotted seat based on the preference, the seat should be taken by the candidate. If student does not pick that seat, he/she will not be able to participate in further rounds of counselling.
MBBS College Predictor for Kerala MBBS Seats:
After the NEET results are announced by NTA, you will get your All India Rank and NEET Score. After state merit list is released by Kerala state counselling authority CEE, you will get your State Rank as well as your State Category Rank. Using these ranks, you can predict which Kerala medical college you have chance to get using college predictor facility available in MBBSCouncil Android app. You can install this app from google play store or by clicking link below.
If you could not understand above category abbreviations, to know complete list of your state's quota and reservation categories, click here >>
How to Predict Your Chance With High Accuracy?
Knowing closing state rank and community rank cut off will increase your prediction accuracy to get seat under state quota in government medical colleges and private medical colleges. Read More on How To Predicting Your College Accurately>>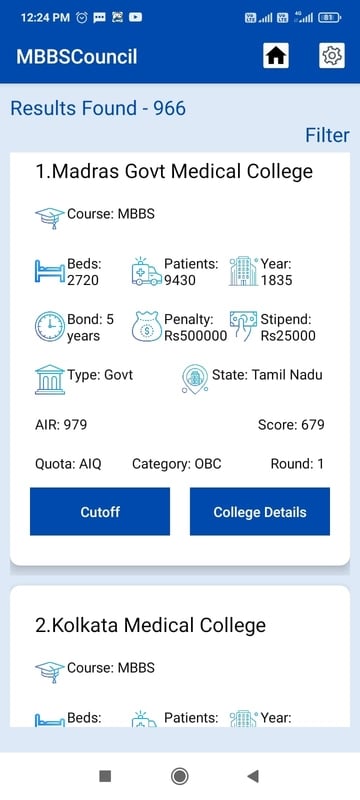 After installing the app, you can enter your all India rank / Kerala state rank / Kerala state category rank in the college predictor tool to find out the list of medical colleges, you have chance to get based on previous year cut off trend of all Kerala medical colleges. Using All India Rank gives better prediction compared to NEET score cutoff.  Similarly using State Rank gives better prediction than All India Rank and category rank provides best prediction compared to State Rank.
You can predict your chances to get a particular Kerala medical college in 2nd round or 3rd round based on the previous year trends using MBBSCouncil app and by knowing the seat vacancy matrix of the respective round in Kerala State Counselling.
Trial Allotment
The CEE will conduct Trial Allotment before the Ist phase of allotment to give an idea about the allotment of seat based on selected choice of the candidate. Kindly note that, trial allotment do not guarantee seat during the actual Ist Phase allotment.
Ist Phase Allotment
After the choice selection period ends, seats are allotted to candidates based on their community rank/state rank. After allotment, student can download the allotment memo which will contain the allotted college and the fees to be paid to confirm the allotment.
Fee Remittance
The tuition fees specified in the allotment memo should be either paid online of through specified post offices in Kerala.
Joining Formalities
Fees receipt given by Post office/generated online should be taken along with all the other original documents while reporting to the medical college for joining formalities.
IInd Phase Counselling
Students who do not join the allotted college in Ist round of counselling can participate in second Phase Counselling. Second counselling will be conducted by CEE for unfilled seats in first round and for newly added MBBS seats. Students are allowed to rearrange their choices during the second round counselling but they cannot add new colleges to the choice list. After choice filling, seats are allotted based on their preference.
Mopup Round Counselling: 
Unfilled MBBS Seats that may arise in various Government/Self Financing Medical Colleges after the second phase of allotment will be filled through a mop up counselling. This is offline counselling. Candidates should visit the counselling venue physically to participate in mopup counselling. Because of Covid-19, last yer Mop up Counselling was conducted in online mode. Candidates who are included in the Kerala State Medical Rank List are only eligible for Mopup round. Candidates can register fresh options during mopup round. Those candidates who have been admitted to MBBS/BDS courses through All India counselling are not eligible to participate in the Mop Up Counselling.
Penalty: If any candidate admitted under Government Quota Seats in the Government/Self financing Medical college allotted by the CEE for MBBS course discontinues after the last round of counselling to join any other college, the candidate is liable to pay penalty charges of Rupees 10 Lakhs and debarred from participating in Admission counselling for next two years.
Why Do You Need Expert Guidance During Counselling?
You need to know medical college types, college ranking, tuition fees, hidden fees, seat matrix, quota, Kerala state reservation, domicile rules, counselling rounds, Kerala state rank list, choice filling, allotment rules, up-gradation rules, compulsory service bond, penalty, intern stipend, PG prospects, last year closing rank cut off, in order to avoid making any mistake during counselling. It will take 3 to 6 months to learn everything and collect necessary details on your own depending on how much time you spend everyday.
Get Personal Guidance
You can take our premium counselling service by dialling helpline number 044-46313330 to get dedicated Kerala counselor who will guide you through-out the counselling process to get best medical college for your rank within your budget.
Eligibility for Kerala State Counselling
Admission to MBBS, BDS, and allied Courses will be based on NEET-UG 2020. All candidates who want to participate in Kerala State Counselling for the seat allotment in Medical & Allied Courses in Kerala State should qualify NEET-UG examination.
Candidates who have studied Physics, Chemistry, Biology/Biotechnology and English under Board of Higher Secondary Education, Kerala or recognized equivalent such as CBSE and secured a minimum of 50% marks taken together in Physics, Chemistry and Biology / Biotechnology are eligible to apply.
As on 31-Dec-2020, candidates should have completed 17 years of age.
For candidates who belong to SEBC/SC/ST, the minimum marks obtained in Physics, Chemistry and Biology/Bio-Technology taken together is reduced to 40% instead of 50%. For PWD Quota, the minimum marks is reduced to 45%.
Domicile Rules and Categories:
Candidates seeking admission to Medical courses are categorized as Keralite, Non-Keralite Category I (NK I) and Non-Keralite Category II (NK II). Kerala conducts counselling for Government Quota seats in Government colleges as well as Management Quota seats in Self-financing Medical Colleges.
(A) Keralite Category : A candidate of Kerala origin as well as Children of All India Service (AIS) officers from any state origin but allotted to Kerala come under Keralite Category. Candidate of Kerala origin are only eligible for Communal/Special reservation or any fee concession.
(B) Non-Keralite Category I (NK I): A candidate who fulfills anyone of the following conditions will be categorized as 'Non-Keralite Category I'(NK I). There is no community/special reservation/fee concession for this category students.
Studied Qualifying course in Kerala and son/daughter of parents who work for Government of India posted in Kerala.
Qualifying course in Kerala and son/daughter of parents who served in Kerala Government for a minimum period of two years.
Resident of Kerala State for a period of 5 (five) years during the study.
Studied in Kerala from standard VIII to XII.
(C) Non-Keralite Category II [NK II]:
Candidates who do not belong to above two categories namely  'Keralite' or 'Non-Keralite
Category I' come under this category 'Non-Keralite Category II'. Candidates under this category are not eligible for admission to Medical courses in Government colleges. Students from this category are eligible to apply for the open quota management seats in self financing private medical colleges in Kerala. 15% of Management Seats of private medical colleges are allotted to student irrespective of the domicile of the student.
MBBS Seat Reservation
As per the prevailing mandatory reservation principle, communal reservation percentage are given below. All Seats in government colleges and private colleges are allotted based on the communal reservation after excluding seats which come under the special reservations such as NCC, etc.
(A) State Merit (SM) – 60%
(B) Socially and Educationally Backward Classes (SEBC) – Total = 30%

Ezhava (EZ) – 9%
Muslim (MU) – 8%
Other Backward Hindu (BH) – 3%
Latin Catholic and Anglo Indian (LA) – 3%
Dheevara and related communities (DV) – 2%
Viswakarma and related communities (VK) – 2%
Kusavan and related communities (KN) – 1%
Other Backward Christian (BX) – 1%
Kudumbi (KU) – 1%

(C) Scheduled Castes & Scheduled Tribes – Total = 10%

Scheduled Castes (SC) – 8%
Scheduled Tribes (ST) – 2%
Special Reservation Quota
Ex-servicemen Quota (XS): Six seats are reserved
Dependent of Defense Personnel Missing or Killed or Disabled (DK): Five seats are available in government medical colleges.
Serving Defense Personnel (SD): Two seats are available.
CAPF (RP): Seats are reserved for sons/daughters of personnel serving in Central Armed Police
Force/Dependent of Armed Police Force Personnel Killed/Missed/Disabled in Action.
Jewish (JW) Quota: 1 seat is reserved under this quota.
Degree holders in Ayurveda (DA): Seven seats are reserved for Degree holders in Ayurveda
Degree holders in Homeopathy (DH): Four seats in the MBBS course are reserved for degree holders in Homeopathy
Nurse-Allopathy (NQ): One seat is reserved for Nurses working for Government of Kerala
Sports Quota (PI & PT): Three seats under Individual (PI) and four seats under Team Event(PT) are available for sports person.
NCC Quota (CC): Two seats are reserved for National Cadet Corps.
Reservation for Persons with Disabilities (PD): Five % of the seats available are reserved for candidates with benchmark disabilities who have minimum of 40% disability for all courses in Govt./Aided Colleges
EWS Quota: A total of 130 seats are reserved for EWS Quota in Government colleges.
Govt of India Nominees: 24 seats are reserved for nominations
MBBS Seat Matrix – Kerala State
Kerala State has 10 medical colleges run by state government and 19 self-financed private medical colleges. Kerala has one deemed university which contains 100 MBBS seats.
| | | |
| --- | --- | --- |
| List of Medical Colleges | Type | Total Seats |
| T D Medical College, Alappuzha | Govt | 175 |
| Govt. Medical College, Ernakulam | Govt | 110 |
| Govt. Medical College, Kozhikode | Govt | 250 |
| Govt. Medical College, Parippally, Kollam | Govt | 110 |
| Govt. Medical College, Pariyaram, Kannur | Govt | 100 |
| Govt. Medical College, Kottayam | Govt | 175 |
| Govt. Medical College, Manjeri, Malappuram | Govt | 110 |
| Govt. Medical College, Palakkad | Govt | 100 |
| Govt. Medical College, Thrissur | Govt | 175 |
| Govt. Medical College, Thiruvananthapuram | Govt | 250 |
| Al-Azar Medical College,Thodupuzha, Idukki | Private | 150 |
| Amala Institute of Medical Sciences | Private | 100 |
| Azeezia Institute of Medical Science | Private | 100 |
| Believers Church Medical College | Private | 100 |
| DM Wayanad Institute of Medical Sciences | Private | 150 |
| MES Medical College | Private | 100 |
| Sree Gokulam Medical College | Private | 150 |
| Jubilee Mission Medical College | Private | 100 |
| KMCT Medical College | Private | 150 |
| PK Das Institute of Medical Sciences | Private | 150 |
| Karuna Medical College | Private | 100 |
| Malankara Orthodox Syrian Church Medical College | Private | 100 |
| Malabar Medical College | Private | 150 |
| Mount Zion Medical College | Private | 100 |
| Pushpagiri Institute of Medical Science | Private | 100 |
| Sree Narayana Institute of Medical Sciences | Private | 100 |
| Dr. Somervell Memorial CSI Medical College | Private | 100 |
| SUT Academy of Medical Sciences | Private | 100 |
| Travancore Medical College | Private | 100 |
Kerala Medical College Ranking
During Medical College Selection or Online Choice Filling, parent as well as candidate need to know… how to find the quality of medical college so that he/she can get the best medical college based on their NEET score. Do you know that National Medical Commission inspects all medical college in India to find out whether the college has sufficient infrastructure, faculties, resident doctors, patient flow, bed occupancy, etc to conduct medical courses. It is difficult for parents to read the NMC assessment report of each and every medical college located in Kerala and access the quality of colleges. We have identified certain key parameters from the assessment report such as Average Patient Flow Per day, Total Outpatient Beds,  Number of PG Courses – clinical, non-clinical, etc. You can rank Kerala medical colleges based on these parameters as well as tuition fees which will help you during choice filling.
Documents Required for Counselling
As the counselling process is conducted online by CEE, Kerala, candidate needs to upload following documents during the registration process. Original Certificates along with attested photocopies are only verified as part of the joining formality after allotment.
Date of Birth Proof :  Birth Certificate / SSLC Certificate
Nativity Proof: SSLC / Birth Certificate showing candidate/father or mother of the candidate was born in Kerala. For Non Keralite Categories, Certificate showing years of study, nature of work of father/mother and other necessary documents to prove their domicile category are required.
Community Reservation: Candidates who apply under SEBC, OEC should upload Non-Creamy Layer Certificate obtained from the Village Offices along with community certificate.  For SC/ST candidates, community certificate should be obtained from Tahsildar.
Income Certificate: If you are applying for fee concession/scholarship/minority quota/EWS Quota, then you have to upload Income certificate obtained from Village Officer.
The candidates who have already passed HSC/10+2 course must upload the mark list of the qualifying examination.
Candidates seeking admission to NRI Quota seats should upload the required documents

Passport copy and Valid Visa attested by the Embassy.
Employment Certificate of Sponsor Attested by Embassy
Relationship certificate of the sponsor and student to be issued by the revenue authorities. If educational certificate contains name of the sponsor(in case of father/mother) it is accepted as relationship certificate
Sworn affidavit from the Sponsor in the stamp paper worth Rs. 200/- notarized by the Notary Public, mentioning that all educational expenses during the entire medical course period will be spent by the sponsor.
Note: Candidates seeking reservation under Persons with Disabilities (PwD) need not upload the Disability Certificate during the registration. They should obtain Disability Certificate from the District Medical Board certifying the percentage of degree of disability, before the State Medical Board constituted by the State Government.
NRI sponsor can be any one of
Father/Mother/Brothers and Sisters (including first cousins)/Husband/Wife
Brothers and Sisters (inclusive of first cousins) of Father or Mother
Half Brother/Half Sister/Adopted Father or Adopted Mother working abroad
Last Year NEET Cut off for Kerala State Quota
NEET Score, All India Closing Rank, Kerala State Rank and Community rank of Kerala State Quota for Government as well as private Medical Colleges can be found by clicking Kerala NEET Cut off
If you want to know more information about NEET score cut off for any particular medical college in Kerala State Quota/Management Quota along with the Tuition Fees details, you can download the MBBSCouncil Android App.
Worth Exploring
1.
Which Medical Colleges you should avoid during Choice Filling >>
2.
How To Rank Medical Colleges Quality For Choice Filling >>
3.
How to Predict Your College Accurately For Your Rank >>
4.
NEET Admission Counselling Tips >>

Filter Medical Colleges Within Your Budget >>